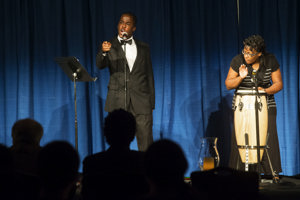 The University of Southern Indiana Multicultural Center's "Live at the Apollo," a student talent show featuring skits, songs, dance, instrumental numbers, monologues and other creative acts, will be held from 6 to 9 p.m. Saturday, October 5, in Carter Hall in the University Center.
Individual acts will be performed by Alaisha Johnson-Rhone, Briante' Melton, Aaron McCullough, Hannah Jenkins, Ciara Johnson, Nathan Wire, Nehal Nihad, Marvis Esparza, Nero, Taryn Bush, Tyrae, Lauren Prazeau, and Breonna Hill.
Group acts include Quiet Spirit (Faith Page, Tori Beasley, Monique, and Ashley Smith); Eli Migueal; Brooke Robinson and Adrian Small; Old Skool Crew (Shanice Landrum, Brennan Humphrey, Kirsten Martin, and Brandi Neal); Lance and Cindy; and Latinos Unidos.
Cash prizes of $100 to $300 will be awarded to first, second and third place in both categories.
Doors open at 5:30 p.m. Admission is free.
USI employees, students, fans, and friends are encouraged to arrive early as seats fill quickly for this popular event.
For more information, call the Multicultural Center at 812/465-7188.