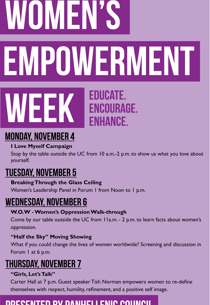 The Panhellenic Council of the University of Southern Indiana is hosting Women's Empowerment Week on the USI campus. Events throughout the week emphasize issues facing women throughout the world and within our own community. All events are open to women on the USI campus as well as anyone else who would like to attend. The mission of Women's Empowerment Week is "Educate, Encourage, Enhance." 
"We hope this event will inspire the women of our community to chase their dreams, challenge themselves, and realize that success is attainable through drive and hard work," said Kaci Turner, USI Panhellenic president. 
Events began Monday and run through Thursday, November 7.   Monday and Tuesday events included an "I Love Myself" campaign and a women's leadership panel, "Breaking Through the Glass Ceiling." 
Wednesday
On Wednesday, November 6, women are encouraged to stop by a table outside the University Center from 11 am. To 2 p.m. to learn facts about women's oppression during the "W.O.W - Women's Oppression Walk-through."
At 6 p.m. on Wednesday, there will be a screening of "Half the Sky" in Forum I, addressing changing the lives of women worldwide. A discussion will follow.
Thursday
On Thursday, November 7, join Tish Norman for "Girls, Let's Talk," at 7 p.m. in Carter Hall in the University Center. Guest speaker Tish Norman empowers women to redefine themselves with respect, humility, refinement, and a positive self-image.
For additional information, contact Kaci Turner, Panhellenic president, at 812/550-3146.