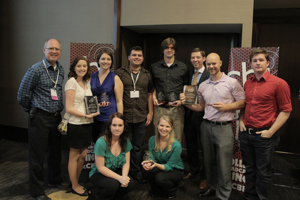 The University of Southern Indiana's radio station, The Edge, competed in the College Broadcasters Inc. National Competition, garnering five finalist entries and taking home two awards. Senior Chris Howard of Evansville, Indiana, took the top honor in the Best Promo category with his entry "That Rocks." Senior Josh Alexander of Crystal Lake, Illinois had the top entry in the Best Podcast categoryfor his interview with the band Color Pharmacy. 
Other USI finalists were: Senior Kayla McCarty of Indianapolis for Best DJ and senior Drew Coles of Hanover, Indiana for Best PSA. The station's entry in the Best Station Imaging category, featuring the work of numerous students, received finalist recognition. 
The College Broadcasters Inc. announced the winners at the annual National Student Electronic Media Convention in San Antonio, Texas. Competition included 700 student entries from more than 100 universities in 25 categories. 
"The awards won by these students represent outstanding work," said John Morris, general manager of WSWI radio and instructor in radio and television. "We have a tremendous amount of talent at the station and it's great that they are able to be recognized on a national stage. Our students take a lot of pride in what they put on the air, and that's what wins awards." 
The Edge features alternative music on weekdays, electronic music at night, and hip-hop on weekends. It can be heard on AM-820, 90.7 FM HD-2, theedgeradio.org and on smartphone and iPhone apps.