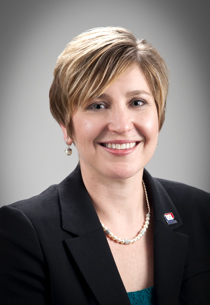 USI alumna Dr. Jennifer Titzer is the 2013 winner of the American Association of Colleges of Nursing (AACN) Excellence in Advancing Nursing Practice Award for an outstanding capstone from a student in a Doctor of Nursing Practice (DNP) program.
Titzer graduated with the DNP from USI in 2013.  In her capstone project, titled Nurse Manager Succession Planning: Strengthening Health Systems for the Future, Titzer developed and implemented a model for strategic succession planning for the chief nursing officer in a large hospital system.
Titzer was nominated for the award by Dr. Maria Shirey, her faculty mentor and a former USI associate professor of nursing.
Dr. Sheila Hauck of St. Mary's Medical Center helped Titzer implement the program at St. Mary's. Hauck was a member of USI's first graduating class in the master's-level nursing program, when she completed a post-master's certificate in the family nurse practitioner track. In 2011, she was among the first graduates of USI's DNP program.
Read more about the project on the AACN website.
Titzer also was recently accepted as a participant in the Nurse Faculty Leadership Academy (NFLA) developed by Sigma Theta Tau International honor society of nursing in partnership with the Elsevier Foundation. The objective of the NFLA is to enhance the personal leadership development of new nurse faculty in order to promote faculty retention and cultivate high performing, supportive work environments.