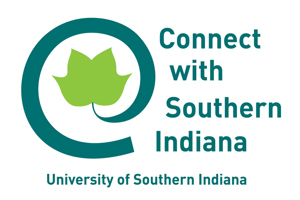 Twenty-three individuals have been selected to participate in the University of Southern Indiana's 2014 Connect with Southern Indiana program. An annual leadership program, Connect with Southern Indiana was established in 2006 through a Lilly Endowment grant and is managed by USI's Historic Southern Indiana. The intent of the program is to boost Indiana's retention of intellectual capital by helping participants strengthen their skills and opportunities for involvement in community and regional projects, meet business and civic leaders, and gain greater awareness of community and regional needs.
Connect with Southern Indiana focuses on a social entrepreneurship model where participants seek innovative solutions to a variety of problems or needs. Those who participate in the program help bridge the gap between entrepreneurial thought and practice by focusing on activities that must be carried out by innovation-oriented organizations. The program is designed to actively immerse participants in the strategic entrepreneurial process with the objectives to reinforce and develop divergent thinking, analytical thinking, and communication skills.
Program participants will attend ten full-day sessions between January and June and will develop a collaborative project that will be presented at the end of the program.
Connect with Southern Indiana is open to current USI students, faculty and staff,  and Indiana residents living in Dubois, Gibson, Knox, Perry, Pike, Posey, Spencer, Vanderburgh, or Warrick counties who would like to improve the quality of life in their communities.
The 2014 class includes:
Dubois County
Catherine Duenne, music director, Saint Ferdinand Parish
Jason Hoffman, application development manager, Kimball Office
John Schroeder, vice president of drivetrain manufacturing, Jasper Engines and Transmissions
Gibson County
Brian Drogich, director, Pike County Area Rehabilitation Center
Henderson County (Kentucky)
Heather Hartenstine, graduate assistant and graduate student, USI's Master of Public Administration program
Knox County
Jonna Guy, director of admissions, Golden Living Center - Petersburg
Bertha Proctor, chief executive officer, Pace Community Action Agency, and graduate student, USI's Master of Public Administration program
Perry County
Linda Reed, grant writer/special project coordinator, USI's Division of Outreach and Engagement, and graduate student, USI's Master of Public Administration program
Pike County
Ashley Polen, admissions counselor, Vincennes University, and graduate student, USI's Master of Public Administration program
Posey County
Rebecca Deeg, grant administrator, USI's Office of Sponsored Projects and Research Administration
Garry Holstein, director, USI's New Harmony Gallery of Contemporary Art, and graduate student, USI's Master of Public Administration program
Brittany Johnson, Posey County director, Chamber of Commerce of Southwestern Indiana
Vanderburgh County
Julie Brauser, assistant director, USI's Career Services and Internships
Megan Glenn, senior program assistant, USI's Historic Southern Indiana, and graduate student, USI's Master of Public Administration program
Ramona Harvey, graduate student, USI's Master of Public Administration program
Matthew Nichols, account manager, Nichols Electric Supply
Koryn Parsons, senior admission counselor, USI's Admission Office, and graduate student, USI's Master of Arts in Communication program
Brandi Schwartz, marketing coordinator, USI's Division of Outreach and Engagement, and graduate student, USI's Master of Arts in Communication program
Aaron Sherretz, gas storage supervisor, Vectren
Ann Tornatta, marketing/communication manager, Deaconess Hospital
Warrick County
Brenton Hasenour, project engineer, Commonwealth Engineers
Stephanie Hinton Kaho, program coordinator, Junior Achievement of Southwestern Indiana
Kenneth McWilliams, office manager, Jenny McWilliams DDS, and graduate student, USI's Master of Public Administration program