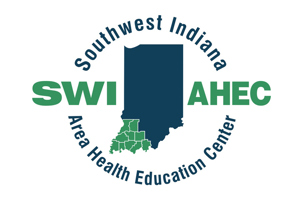 Southwest Indiana Area Health Education Center (SWI-AHEC) is offering a three-day summer health careers exploration program for regional high school students interested in careers in healthcare. Designed for students who will be sophomores, juniors, or seniors in fall 2014, the non-residential summer camp will be held June 16, 17, and 18 at the University of Southern Indiana in the Health Professions Center. The fee is $25, and financial assistance is available. Space is limited.
Participants will engage in hands-on, interactive activities with regional higher education institutions and healthcare facilities. Students living in Daviess, Dubois, Gibson, Knox, Perry, Pike, Posey, Spencer, Vanderburgh, and Warrick counties are eligible to apply.
"Fifteen of Indiana's 50 hottest jobs are in healthcare," said Jane Friona, executive director of SWI-AHEC. "High school students often don't realize the variety of careers available in health care or the education required to pursue these careers. These camps will engage participants in activities and experiences designed to provide them with this information." 
Funding for the camp is provided through a grant from the United States Department of Health and Human Services, Health Resources and Services Administration. Applications are available at http://www.usi.edu/swi-ahec or by calling 812-228-5048.
Founded in 2008, SWI-AHEC strives to ensure a qualified healthcare workforce across 10 counties in southwest Indiana. It is one of eight regional AHECs in Indiana and is hosted by the University of Southern Indiana in the College of Nursing and Health Professions.
For more information, contact Jane Friona, executive director of southwest Indiana AHEC at 812-461-5446 or jefriona@usi.edu.