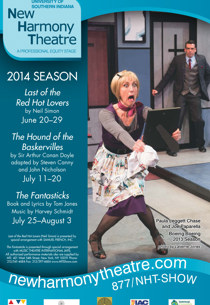 New Harmony Theatre opens its 2014 season of comedy with Neil Simon's classic Last of the Red Hot Lovers on June 20. Last of the Red Hot Lovers, directed by Elliot Wasserman, producing artistic director and chair of Performing Arts at the University of Southern Indiana, runs June 20-22 and June 27-29. This comedic representation of one man pursuing a swinger's lifestyle during a mid-life crisis stars Laurie Dawn, Stacey Harris, Amanda Huxtable and Buzz Roddy.
The Hound of the Baskervilles, by Sir Arthur Conan Doyle, adapted by Steven Canny and John Nicholson, plays July 11-22 and July 18-20, and is directed by Eric Altheide, New Harmony Theatre's resident associate director and assistant professor of theatre at USI. This madcap take on Doyle's classic tale done in a decidedly "non-classic" way will be performed by Christopher Behmke, Jonas Cohen and Richard Price.
The season will draw to a close with the musical comedy The Fantasticks, with book and lyrics by Tom Jones and music by Harvey Schmidt. The tale of young love and old wisdom is directed by Wasserman and runs July 25-27 and August 1-3. Appearing in the longest-running musical in the history of New York theatre are Hal Davis, Jackey Good, Michael Glavan, Jason Pintar, Charles West and James Young, as well as USI student Danielle Scott and local Evansville actor Steve Small.
Tickets are on sale now, and season tickets may be purchased through the first production. All evening performances start at 7:30 p.m. and matinees begin at 2 p.m. Individual adult tickets are $28 for Last of the Red Hot Lovers and The Hound of the Baskervilles and $35 for The Fantasticks. Discounted tickets are available for students and seniors. Season tickets are $63 for adults, $57 for seniors (60 and over), and $51 for groups of 20 or more.
The New Harmony Theatre is a professional Equity theatre produced by USI and is the Tri-state's only professional Equity theatre. Plays are performed in the historic Murphy Auditorium located at 419 Tavern Street in New Harmony.
For more information or to make a purchase, visit www.newharmonytheatre.com or call the box office at 812-682-3115 or toll free 877-NHT-SHOW. For updates, follow us on Facebook at "New Harmony Theatre."