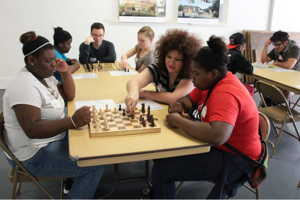 The third annual Sculpt EVV Community Art and Music Festival will be held from 11 a.m. to 5:30 p.m. Saturday, June 7, at the corner of S.E. Second Street and Jefferson Avenue in the Haynie's Corner Arts District in Evansville.
The event is free and open to the public and includes food vendors, an art fair, live music, games, drum lessons with the Boom Squad and more.
Artist and University of Southern Indiana alumnus Mark Brendel and USI students will work with youth to build a neighborhood sculpture incorporating recycled materials that will teach them to play chess as well as serve as a pollinator for hummingbirds and butterflies. They'll be working from 11 a.m. to 3 p.m.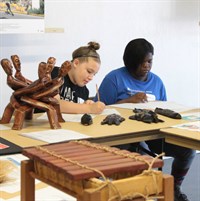 Other activities include a pop-up African art display of work from USI's teaching collection; the unveiling of a community mural by respected artist, Eric Braysmith, USI lecturer in Liberal Arts, and the reading of a poem written by Marcus Wicker, USI assistant professor of English.
Dr. Hilary Braysmith, USI associate professor of art history and project director for Sculpt EVV, has worked with Evansville Brownfields Corporation to allow students in a summer art class to transform an unoccupied house at 313 Jefferson Avenue into an immersive art experience.
"The house will not function as a gallery to display art but as an artwork," Braysmith said. "The Brownfields Corporation works with the City of Evansville to acquire, hold and redevelop properties in blighted areas determined by the city. This project enables USI students to practice the rarest form of neighborhood revitalization through aesthetic interventions—the use of a structurally sound, though unoccupied house. Such house projects are extremely rare and I have never heard of one where undergraduates are the designers."
For more information, find Sculpt EVV on Facebook.
Sponsors of the Sculpt EVV Community Art and Music Festival include the University of Southern Indiana, City of Evansville, The Potter's Wheel Ministries and Memorial Community Development Corporation.
Event partners are the African American Museum, Evansville Museum of Arts, History and Science, and the Goosetown Neighborhood Association.