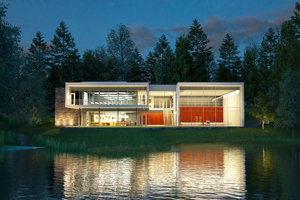 During its regular meeting on July 10, 2014, the University of Southern Indiana Board of Trustees approved a $105 million operating budget for the 2014-2015 academic year. Income is from fee revenues, state appropriations, and other sources.
The board approved a staff recommendation to award the construction contract for a new $5.75 million conference center to Empire Contractors, Inc., of Evansville, Indiana. The new conference center will meet the need for more meeting and conference space on the USI campus. A groundbreaking for the center which will be located on the southwest side of campus overlooking Reflection Lake has been set for July 21 at 1:15 p.m. The 12,700 square-foot conference center will include a 2,400 square-foot meeting room that will accommodate about 150 guests. Other meeting spaces, related breakout areas and food service support facilities also will be included. Completion of the conference center is expected in late 2015.
In other board business, Jeffrey Knight was selected to serve as chair of the University of Southern Indiana Board of Trustees in 2014-15. Other board-elected officers for the coming year include W. Harold Calloway, first vice chair; Ira Boots, second vice chiar; and Amy MacDonell, secretary.  
Steve Helfrich, director of Facility Operations and Planning, provided an update on current construction and renovation projects, including the Teaching Theatre, theatre support building, Science Center-lower level renovation, Sub Connection renovation in the University Center, student housing, classroom renovation in the Orr Center and replacement of an air handling unit in the Technology Center.