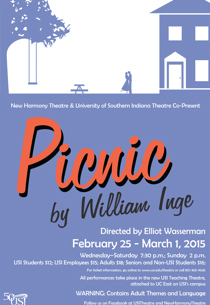 University of Southern Indiana Theatre will start the spring 2015 season with William Inge's Picnic. The production is part of the Repertory Project - a co-production of New Harmony Theatre and USI Theatre and will be showing February 25-March 1 in the new USI Performance Center.
Emotions are ignited among the content townsfolk when a handsome drifter arrives in a small Kansas community in the joint backyards of two middle-aged widows. One house belongs to Flo Owens, who lives with her two maturing daughters, Madge and Millie, and a boarder who is a spinster school teacher. The other house belongs to Helen Potts, who lives with her elderly and invalid mother. What will happen when their worlds are turned upside down due to love?
Elliot Wasserman, Picnic director, will be joined by a design team including USI student AJ Jones as costume designer and faculty members Karen Jordan as dance choreographer, Eric Altheide as fight choreographer, Eric Cope as lighting designer and Kevin Gray as sound designer. USI welcomes guest scenic designer Ron Naversen, who has worked on several New Harmony Theatre productions as well as Liz Reddick, member of Actors' Equity Association, as production stage manager.

Picnic's cast includes professional Actors' Equity Association members Licia Watson as Helen Potts and Leslie Alexander as Flo Owens. They are accompanied by USI students Antonio King as Hal Carter, Katie Jones as Millie Owens, Maximilian Spears as Bomber, Presley Roy as Madge Owens, Samantha Prindle as Rosemary Sydney, Craig Belwood as Alan Seymour, Melissa "Moe" Brown as Irma Kronkite, Hannah Miller as Christine Schoenwalder and Logan Vickers as Howard Bevans.
Tickets are $12 for USI students, $18 for adults, $15 for USI employees and $16 for seniors (60+) and non-USI students. Shows start at 7:30 p.m. Wednesday through Saturday and 2 p.m. for the Sunday matinee. To purchase tickets or for more information, visit www.usi.edu/theatre or call the box office at 812-465-1668. Follow us on Facebook at USITheatre and NewHarmonyTheatre for updates and photos. USI Theatre's final show of the spring season, Spring Awakening with book and lyrics by Steven Sater and music by Duncan Sheik, based on the play by Frank Wedekind, runs April 22-26. Tickets for the upcoming productions are on sale now.
All performances in the 2014-15 season contain adult themes and language. Spring Awakening also includes nudity.