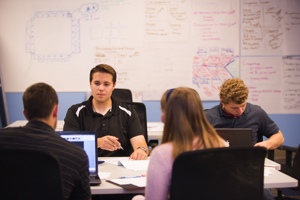 The University of Southern Indiana's Technology Commercialization Academy (TCA) began its fourth annual session of development through technology transfer in May 2015. The program is an initiative to build innovation in the region and train future business leaders by providing real experience to USI students. Companies from prior TCA projects have developed products to market both locally and nationally, including Pivot Engineering's Clever Cubes and H&H Heating Services's Cuisine Caterer.
In the 11-week duration of TCA, a paid fellowship, students will visit USI partner, Naval Surface Warfare Center Crane Division (NSWC Crane) and learn about recent military technology developments and patents. Using Crane technology, each team of students will develop a new idea to market and in July 2015, teams will present their business plans to Crane inventors, USI professors, and local entrepreneurs and business leaders.
Fifty-six applicants to the program were interviewed and 16 were chosen to be a part of the 2015 TCA. Selected students then underwent a process designed to split them into four teams based on their learning predispositions, areas of study and problem-solving perspectives. "The composition of each team will allow it to persevere in the business process," said Dr. Jason Salstrom, USI technology commercialization manager and head of TCA. 
Daniela Vidal, director of Opportunity Development, encouraged students to "think big" in their ideation processes. She explained that TCA is fundamental in creating an innovation ecosystem in a region with both urban and rural areas by commercializing successful military technology.