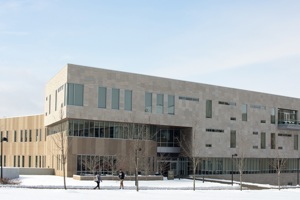 Winners have now been announced in a marketing campaign challenge for the Evansville Regional Airport (EVV), a joint initiative between the airport and the University of Southern Indiana's Romain College of Business. The challenge sprang from a talk given by Doug Joest, executive director of the Evansville Regional Airport, who served as Executive in Residence for the Romain College of Business in fall 2015. During his presentation, "Flight Plan for Your Career: Passion, Persistence, Performance & Patience," Joest offered up the challenge for students to develop an original marketing campaign to capture more of the air travel market share for EVV.
"We selected a campaign aimed at capturing market share," said Leslie Fella, EVV director of marketing and air service. "We currently capture about 70 percent of our market, which is very good and ranks extremely well with other regional airports our size and larger. However, we would always like to see more."
The challenge utilized a beta version of a virtual competition platform, Startup Compete, which can be used to explore the viability of hosting challenges and competitions both locally and globally. "It's a global networking site and competition platform for aspiring entrepreneurs, mentors and advisors to connect with each other and bring potential business ideas to market," said Bryan Bourdeau, USI instructor of business. "Powered by the Global Entrepreneurship Network, it can potentially reach millions of people in more than 160 countries."
The immersive learning environment brings together interdisciplinary, student-driven teams that create high-impact learning experiences. "This type of competitive engagement not only impacts the client, but the students make strong connections between real-world challenges and their educational experience," said Bourdeau.
The challenge kicked off October 12 with 10 teams of USI students representing 12 majors and three minors from across the University. The competition was comprised of four rounds: team member validation; a mandatory Q&A session at EVV; preliminary pitch and presentation judging; and final pitches at EVV. During each stage of the competition, the field narrowed, with the final three teams having a shot at $500 and the opportunity for an internship at the Evansville Regional Airport.
"We appreciated the real-world experience the challenge gave us," said Logan Hartman, a USI marketing and management major. "The experience as a whole increased our business acumen, which will help us with future business endeavors."
"It was a great opportunity to create new and innovative business strategies for a local business," added Jeremy Seibert, a USI economics major. "For me it was a great opportunity to challenge myself and learn about a business field—marketing—other than the one I'm studying in school."
Fella said that the Evansville Regional Airport will be awarding at least two internships as a result of the competition. Those are yet to be determined.
First Place Winners (Included a $500 award)
Logan Hartman, Marketing and Management
Emily Tedder, Math
Sarah Jaeger, Business Administration
Second Place Winner
Jeremy Seibert, Economics
Third Place Winners
Joshua Beiriger, Accounting and Finance
Ryan Loehrlein, Mechanical Engineering and Finance
Brie Phillips, Marketing
The 2016 USI Romain College of Business – EVV Marketing Challenge is part of the Romain College of Business ongoing Entrepreneurial Initiative. For more information, contact Bryan Bourdeau at bbourdeau@usi.edu.