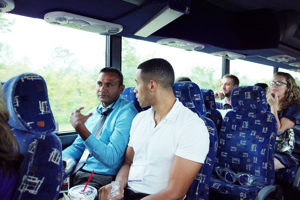 On August 10, 2017, 50 faculty and staff members from the University of Southern Indiana, University of Evansville and Ivy Tech Community College will spend a day on a coach bus for USI's Day on the Bus. The annual event gives participants an opportunity to learn about workforce trends in the region while visiting selected organizations in the Evansville area. Additionally, the event provides connections between participants, but also promotes long-lasting collaboration throughout the surrounding area.
"Day on the Bus is all about collaboration," said Taylor Gogel, previous participant in Day on the Bus. "It's a great way to engage with not only University colleagues, but the community. Participants learn so much about the innovative technologies at local businesses and the talent they are seeking. This provides a unique opportunity for the University to understand area needs and how to meet workforce demands. Day on the Bus also creates exchange among regional colleges and for an exchange of best practices.†   
Sponsored by Old National Bank and USI's Center for Applied Research, this year's event will have a global presence, focusing on local businesses who have partnerships worldwide. Destinations include Berry Global, Traylor Brothers and Accuride, with lunch provided by Traylor Brothers.
"Day on the Bus was an experience unlike any other," said Maggie Hurm, 2016 participant. "Having the opportunity to tour local industry, interact with Mayor Winnecke and spend time with other USI faculty and staff was incredible. It made me feel closer to the University and my peers here and helped me understand the role USI plays in the community."
Seats are limited, so interested employees from the three universities are encouraged to register today.
For more information visit USI.edu/DayontheBus or contact Stephanie El Tawil, supervisor of Opportunity Development, at sjeltawil@usi.edu or 812-461-5442.