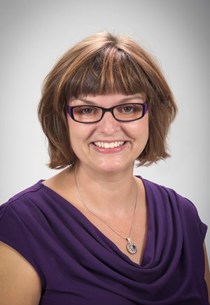 Dr. Sarah Stevens has been named interim director for the Honors Program. She began her duties as interim director on August 1, 2017.
The Honors Program is for students who want to challenge themselves academically and are prepared to invest extra time and effort to meet that challenge. "I will work with faculty and students to ensure our Honors students have an experience which enhances and enriches their time at USI," said Stevens. "I will also work with the Living Learning Communities, which each have their own sponsor."
Prior to accepting this role, Stevens served at USI as director for the Advising Center in the College of Nursing and Health Professions. Before that she was an academic advisor in University Division. She has 15 years of teaching experience, served as director for the Office of International Programs at Southern Oregon University and published numerous articles and two books.
Stevens serves as an Indiana State Liaison for NACADA, the Global Community for Academic Advising, as well as serving as a member of the NACADA Inclusion and Engagement Committee and NACADA LGBTQA Commission Steering Committee. Stevens received both her master's degree and doctorate in Chinese with a minor in gender studies from Indiana University, Bloomington.
"We want our Honors students to have meaningful academic and social events, as well as to engage deeply in the USI and greater Evansville community," said Stevens. "My goal is to make sure that the Honors Program is deep and meaningful, by assessing our current practices and finding the right direction for our future growth."
For more information on the Honors Program, visit online.