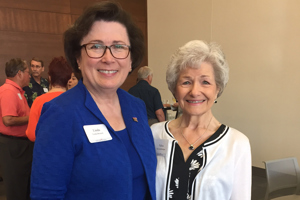 We've often referred to our friends and colleagues at USI as "family," and the bond shared with our co-workers and the University doesn't have to end after retirement. The USI Retirees group regularly meet to socialize over pizza, go on trips or catch up with friends. They continue to contribute to USI by sharing their expertise through seminars, volunteering their time, advocating for current and future retirees and even establishing a scholarship for current employees taking classes.
The group began organizing in 2010 and held its first meeting with Ed Jones, vice provost emeritus for Outreach and Engagement, serving as their first president. Members of the group have played a large role in making the University what it is today, and wanted not only to keep up with campus happenings and stay in contact with friends, but to also contribute to USI's future. "We want to remind the University that they have a large group of people who support them," said Dr. Nils Johansen, advisor emeritus of University Division.
The retirees enjoy a sustained social bond. They take day trips together, go kayaking, take in a New Harmony Theatre play and meet annually at Turoni's Pizzery and Brewery to celebrate "not having to be in a meeting that day." Many of the trips they plan aren't just for leisure, but many also have an educational element in the USI spirit of continued education. On an upcoming visit to Falls of Ohio, they will examine fossils and learn the history and geology of the location. Each attendee taps into their knowledge to share and teach others about the things they enjoy.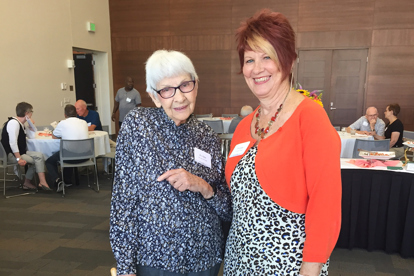 "At USI, we felt like we were one big family, and it's still that feeling being part of this group," said Yvonne Floyd, retired senior administrative assistant in Athletics. "The campus was built on that feeling and it's been carried forward with every president the University's had."
Jim Bandoli, current president for the group, said the retirees wanted to assist current employees in furthering their education. To help offset the cost of textbooks, five employees each semester who are currently enrolled in classes receive a $100 scholarship. "There are no applications. We just get the list from the Registrar and draw names from a hat." They also underwrite five registrations for individuals to attend the annual Mid-America Institute on Aging and Wellness (MAIA).
Members of the group offered various educational seminars covering a range of topics such as, wellness, nutrition, fitness and smart investing. They also continue to raise awareness others about the benefits employees will continue to enjoy after retirement, such as discounts in the Campus Store, access to the Recreation, Fitness and Wellness Center, borrowing privileges at the Rice Library, noncredit courses at reduced rates and discounted season tickets for athletic events.
The organization works closely with USI Foundation, who provides staff support and sponsors an annual luncheon and meet annually for a reception in the Griffin Center hosted by President Linda L.M. Bennett.
If you are nearing retirement and want to maintain a bond with USI and the USI family, consider joining the USI Retirees group. Membership is $20 annually and is open to all USI retirees and current or surviving spouses. Day trips are on a pay as you go basis. Retirees receive a semi-annual newsletter, Vintage Times, to keep them aware of what their colleagues are doing and to learn about upcoming events and activities.
More information about the USI Retirees is available online.