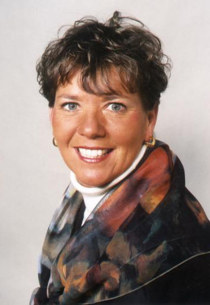 Kimberly J. Harper, chief executive officer of the Indiana Center for Nursing (ICN), is the 2017 recipient of the University of Southern Indiana's Distinguished Nursing Alumni Award.
Harper received degrees in Nursing and Health Services from USI. She has held nursing positions in administration and education in Evansville and Indianapolis. Under her leadership, the Indiana Center for Nursing has grown and is now identified as the voice of nursing in the state of Indiana by bringing leaders from nursing education and nursing service together.
"I have known Kim for the last six years through working with ICN, and what I think is most special about Kim is her love and passion for nursing," said Dr. Ann White, dean of the USI College of Nursing and Health Professions. "She is a tremendous ambassador for nursing in the community and has gained a national reputation because of her service."
Harper serves as co-chair of the National Nurse on Boards Coalition, which represents all of the major nursing organizations with a goal to have 10,000 nurses on community and health care-related boards by 2020. She is also a member of the Indiana Governor's Task Force for Healthcare Education, Pipeline, and Training.
In this past year, she has presented at the United Nations Commission on the Status of Women; the International Council of Nursing Congress in Barcelona, Spain; the National Forum of State Nursing Workforce Centers; Sigma Theta Tau International Research conference in Cape Town, South Africa; and the National Hartford Center for Geriatric Nursing Excellence conference.
White presented the Distinguished Nursing Award to Harper during USI's White Coat Ceremony on August 25 for junior students beginning their first clinical course. Each year, the USI Nursing Alumni Society recognizes a graduate who has made outstanding achievements in a career or public service. More information is at USI.edu/health/nursing/nursing-alumni-society.