The Romain Promise Principal Recommendation Program
Some high school students think they aren't "college material." Maybe their grade point average isn't where it could be or they have big ideas but their interests are unique. Some just lack support or encouragement to take that next step in their education. Dr. Sudesh Mujumdar, Dean of the Romain College of Business, and his leadership team are committed to removing obstacles to continuing education with the Romain Promise, a direct admission program to the Romain College of Business. 
Bosse, Central, FJ Reitz, and Mater Dei High Schools in Evansville, Indiana, and Castle High School in Newburgh, Indiana, are piloting the new initiative, with nearly a dozen students admitted to Romain College in the first few months of the program.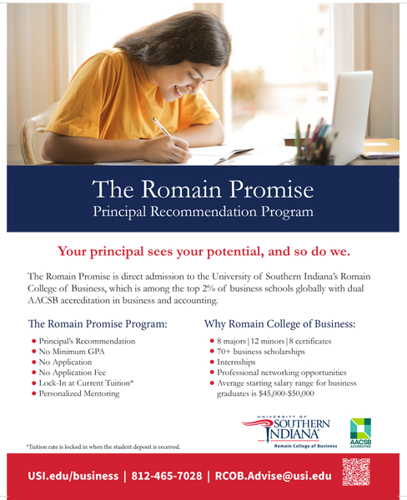 ---
Romain Ambassadors Program
Romain College of Business takes pride in the high percentage of business alumni that stay involved with the College after graduation, including support from advisory boards, classroom guest speakers, student mentoring, and career networking opportunities for students. 
A unique new initiative is the Romain Ambassadors Program. Business alumni who have achieved a high level of career success have agreed to serve as an ambassador between their high school and USI by telling the story of how their co-created path with Romain College led to their career success. These stories are printed and sent to the alumni's high school, where current high school students see the career accomplishments of "one of their own." The print pieces showcase what Romain College has to offer and gives high school students career ideas they may never have thought of.

*Tuition rate is locked in when the student deposit is received.