Identify strengths and improvement opportunities through evaluator comments and individual behavioral ratings tied to the 8 NACE competencies. Students gain personalized insight into their work-related competencies and how their skills compare to other students nationally. Students achieve a better understanding of how they are progressing in the areas most sought after by employers and their level of self-awareness.​
Your academic journey to career readiness begins with an online SkillSurvey Career Readiness® evaluation.
What skills are most important to employers? How do your skills compare to your peers? SkillSurvey can help answer those questions.
Students at USI have access to SkillSurvey evaluations through courses, internships, student employment, and other student groups. Contact Career Services if you'd like an evaluation.
Students receive an email with a link to access the evaluation

Confirm your information

Enter an evaluator - someone you've worked with who can rate your skills

Notify the evaluator to accept an email from SkillSurvey

Complete the self-evaluation

In about two weeks, you'll receive a personalized Career Readiness Report
Each student who completes a SkillSurvey evaluation will receive a personalized Career Readiness Report. This will tell you how you rate yourself and how any evaluators rate you. It will also compare your results to similar students nationally.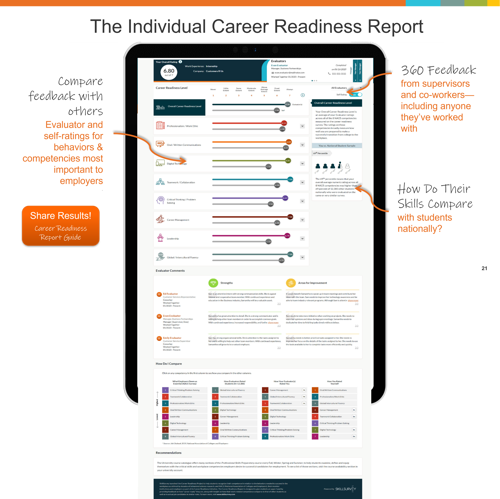 To get the most out of your SkillSurvey evaluation, you'll want to have evaluators rate your performance in addition to your self-evaluation.
In some cases, for an internship or class, specific evaluators, such as your internship supervisor will be required. In other cases, you will need to provide an evaluator. You want an honest opinion about your skills. Provide evaluators who can share meaningful feedback about your behavior in a work environment. You want to select somebody who knows you well enough to give meaningful feedback on your professionalism, which doesn't HAVE to come from a job. A work environment can be any kind of job, volunteer service, team sport, or club. NOTE: If you've had a job previously, and yes, fast food, retail, and baby/dog-sitting ALL count as viable employment for this edition of the survey, we recommend starting there, but there ARE other options!
SkillSurvey is designed to give you honest, useful feedback from people you've worked with.
You're not graded on how high your score is, so ask your evaluators to give you honest, real feedback. The feedback is only useful if it's genuine.
In addition, be honest with yourself when filling out the self-evaluation. Think about how you perform in a professional or work situation. Is there anything you could improve?
USI Career Services can offer advice on how to develop the competencies employer look for in college graduates.
Evaluators are sharing their opinion and  feedback should not be considered the opinion of the company as a whole.
When sharing feedback with others, be sure to get permission from your evaluator before using their name or company name.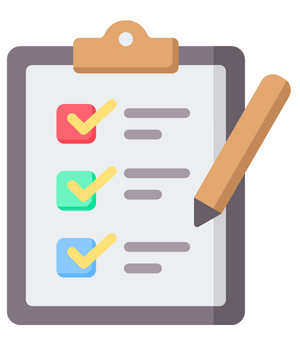 Career readiness is a foundation from which to demonstrate requisite core competencies that broadly prepare the college educated for success in the workplace and lifelong career management.
For new college graduates, career readiness is key to ensuring successful entrance into the workforce. Career readiness is the foundation upon which a successful career is launched. Career readiness is, quite simply, the new career currency.
For higher education, career readiness provides a framework for addressing career-related goals and outcomes of curricular and extracurricular activities, regardless of the student's field of study. For employers, career readiness plays an important role in sourcing talent, providing a means of identifying key skills and abilities across all job functions; similarly, career readiness offers employers a framework for developing talent through internship and other experiential education programs.
Information provided by the National Association of Colleges and Employers (NACE)
There are eight career readiness competencies, each of which can be demonstrated in a variety of ways. NACE launched its Career Readiness Initiative in 2015 to address a fundamental need for new college graduates and the professionals who serve their career development needs and recruit them into the workforce: a shared understanding of what is needed to launch and develop a successful career, a common vocabulary by which to discuss needs and expectations, and a basic set of competencies upon which a successful career is launched.
The identified career readiness competencies are:
Career and Self Development
Communication
Critical Thinking
Equity and Inclusion
Leadership
Professionalism
Teamwork
Technology
NACE (n.d.). What is Career Readiness? https://www.naceweb.org/career-readiness/competencies/career-readiness-defined/