Need professional business attire for an upcoming interview?  
USI students in need of professional clothing for an upcoming interview can visit and select free business wear from the Suits for Student Success Closet. Career Services and Internships is pleased to offer this benefit.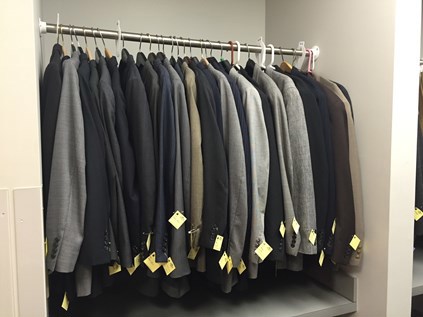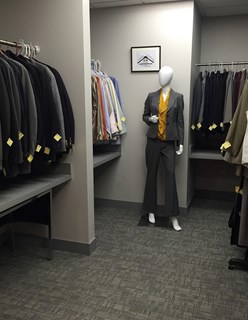 Guidelines & Rules
Students will need to bring their USI student ID card when visiting the closet.
USI students may choose one free outfit from the Suits for Student Success Closet per calendar year.
An outfit consists of one pair of slacks or skirt, one blouse or shirt, one jacket, one pair of shoes.
Outfits are donated from the business community, so we may not have sizes or styles available to fit all students needs at any given time.
Students can choose to take only one part of an outfit if they don't need the whole outfit or if their sizes /styles are not currently available.
A fitting room is available in Career Services to try on suits.
Students are invited to keep the professional clothing for their use for interviews or future jobs.
If a student wishes to return the clothing to the Suits for Student Success Closet, it must first be clean and hung neatly.
Suits for Student Success Closet
HOURS
Monday - Friday
9:00 a.m. - 3:30 p.m.
Closed on school holidays
LOCATION
Career Services and Internships
Orr Center, OC 074
Do you have business clothes to donate?
We appreciate all donations of clean high-quality interview clothes and shoes from the community. We accept donations on an as-needed basis determined by our current inventory and space. If you have suits or interview attire to donate contact Career Services and Internships with any questions at 812-464-1865 or email us to make drop-off arrangements. If you represent a local store that sells business attire, we also appreciate coupons and discounts for our USI students. If you offer a discount, let us know and we will be glad to share the information with our students.
This program is a valuable resource for young professionals at USI and is not possible without your help! Thank you!