Can my work experience and training certifications count toward college credit?
The short answer is yes, they can.
Adult learners have a special advantage over more traditional students when it comes to pursuing higher education; they likely enter college with years of professional experience and maybe even field-specific certifications behind them. The University of Southern Indiana believes this knowledge should count toward a college degree or an advanced certificate.
What are my options?
We have several strategies available to make your past experience count for course credit. These options include:
Prior Learning Assessment (PLA)
Standardized Exams
Military Service Transcripts
Departmental Challenge Exams
More details about these opportunities can be found here.
Helpful Insight from a Support Specialist Regarding the PLA
One of our own Adult Learner Support Specialists, Jennifer Burke, recently completed the Prior Learning Assessment (PLA) route herself and is eager to provide insight to other potential adult learners.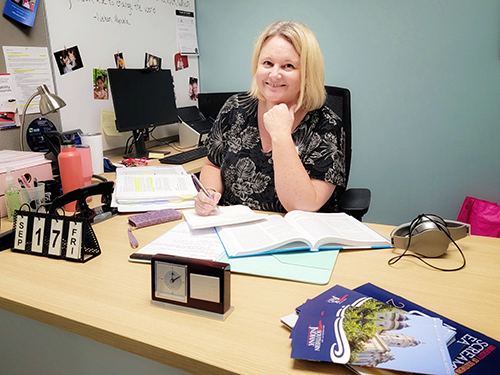 For a bit of background information, Jennifer has 20 years of experience in public service, and 9 of those years involved working for the Department of Corrections. After learning about the PLA and hearing that she could utilize her past experience to earn credit hours toward completing another degree, Jennifer decided to pursue USI's fully-online Master of Arts in Criminal Justice (MACJ) program.
The first step Jennifer took involved finding her desired program of study, the MACJ program, on USI's website and viewing the specific program requirements for PLA application. Those requirements involved a $250 assessment fee and preparing a portfolio of her past education, work experience, and other training.
In working to compile her digital portfolio, Jennifer gathered all of her transcripts, training certificates, and other relevant documentation. Overall, Jennifer was able to account for more than 600 hours of specialized training from her past career. She also provided a general narrative explaining how she implemented her specialized training each day in the workforce.
Upon completion, Jennifer's digital portfolio was submitted to the director of her program of interest, who then reviewed the documentation with the respective advisory committee. After a short time, Jennifer was contacted by the MACJ director, stating that she had been awarded nine PLA credit hours, the maximum number of hours available to students pursuing a graduate-level degree.
As you might expect, Jennifer was excited to hear that these awarded hours would essentially cut three courses from her plan of study, allowing more time to focus on other tasks and getting her that much closer to another degree.
"The PLA cuts down so much time in obtaining a degree, which was a huge incentive for me," said Jennifer. "Even if I had only been awarded three credit hours, the $250 assessment fee would more than pay for itself. It's well worth it!"
When asked if she had any advice for other students looking to pursue the PLA route, Jennifer said, "Pay attention to your specific program requirements and gather as much supporting evidence as you can; everything counts, and too much documentation is far better than too little." She added, "If all else fails, write a really great narrative about your work experience."
How do I get started?
If you're ready to find out how to make your experience work for you, contact our Center for Adult Learner Success today. Our team members are excited to talk with you about your education goals and how to best pursue them!
Just complete this quick form, and we'll be in touch to schedule a time to talk.