This website is a collection of resources for students and faculty in partnership with the Upper Midwest Telehealth Resource Center for the purpose of furthering the knowledge and accessibility of telehealth.
Interested in resources tailored to a specific discipline or career? Click the buttons below for more telehealth information!
---
This website and related curriculum resources are supported by the Health Resources and Services Administration (HRSA) of the U.S. Department of Health and Human Services (HHS) as part of an award totaling $90,625 with zero percentage financed with non-governmental sources. The contents are those of the author and do not necessarily represent the official views of, nor an endorsement, by HRSA, HHS or the U.S. Government.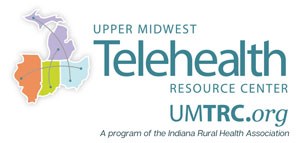 UMTRC
As a federally funded program of the Indiana Rural Health Association (IRHA), the UMTRC provides a comprehensive set of telehealth clinical and technical assistance services leveraged into products of lasting value to rural providers. Many of the resources found on the website are related to reimbursement and development of sustainable telehealth programs. The UMTRC region encompasses the states of Illinois, Indiana, Michigan and Ohio. Visit the UMTRC website.