From the Desk of

Dr. Ronald Rochon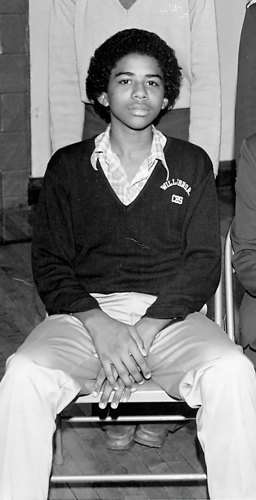 Over time, I've come to realize that although failure is a fact of life, what we do with it determines our destiny. There are several moments in my life where I "came up short." One in particular stands out, because it was during an impressionable time in my path to manhood.
In 1978, I was class president of my high school; a skinny, shy senior with a big afro who couldn't wait to enter college, despite the prediction of a grade school teacher who told my mother, "If he graduates from high school it will be a miracle." Neither of my parents attended college, but for their children it was a "must" and not an "option." The same was true for my choice of college —the University of Illinois at Urbana-Champaign. Growing up on Chicago's south side, U of I was the choice. All of my friends were headed there, and I would be among them. I told anyone who would listen that I would be attending U of I to become somebody.
I came home every day and checked the mailbox for my acceptance letter, my anxiety growing until finally I held a thin, flat envelope in my hands. I knew upon seeing the envelope that it was a rejection, since acceptances arrived in thick, robust envelopes with offerings of campus life. Reading "Dear Ronald, we regret to inform you…" made me feel as if I'd let everyone important in my life down, especially my mother. Not being accepted to one of the best universities in the country devastated me. I wouldn't, after all, be the first person in my family to earn a college degree.
My mother, who had what I called "Alice's non-negotiable plans for success," arranged for me to meet with Dr. Jasper Williams to discuss the possibility of me attending Tuskegee University, where he sat on the Board of Trustees. I was thankful for my mother's efforts and appreciative of Dr. Williams' interest in my future, but Tuskegee simply was not Illinois. My mother, however, knew that at Tuskegee I'd see African-American women and men in prestigious roles—attorneys, mayors, architects, professors, physicians and entrepreneurs—whom I could look up to and learn to emulate. 
I applied to Tuskegee and was accepted, making my family proud. My parents' joy at my acceptance reenergized me, renewing my plan to change the world. My freshman year, however, was a nightmare. I studied relentlessly, yet I was consumed with fear. I did not want to disappoint my family again. My new friends teased me because all I did was study. My first exam was in biology and I failed the test. I called my mother, "I can't do this. I don't think I have what it takes to be successful in college." Despite my self-doubt, she held unconditional belief in me, saying that I should give each of my classes my very best effort, and if I still felt that way, then "come home."
I didn't share my mother's vision or confidence in me. I'd failed, and was afraid of more failure. Afraid that failure would ultimately become my new identity.
A few days later, I received a package from my mother filled with homemade gingerbread, pound cake, oatmeal raisin cookies and a letter containing a Langston Hughes poem titled "Mother to Son." The poem is about resiliency and perseverance; it's about a mother's unwavering belief in her son's ability. She and my father gave up their own dreams to ensure my siblings and I would achieve ours. Sending me the poem meant Langston Hughes' meaningful lyrics were speaking through my mother's heart, encouraging me to carry on and to never give up on myself.
I graduated from Tuskegee with a bachelor's and later enrolled at the University of Illinois where I received both a master's and a doctorate. What I once perceived as rejection and failure was nothing more than a temporary "no thank you." Life is a marathon, not a sprint, and rejection isn't synonymous with failure; nor is it permanent. In fact, as we navigate life succeeding and failing, we must remember that honorable work worth achieving never comes quick or easy. It never has for me, and that's okay. For as Langston Hughes so eloquently stated, "I'se still climbin'."