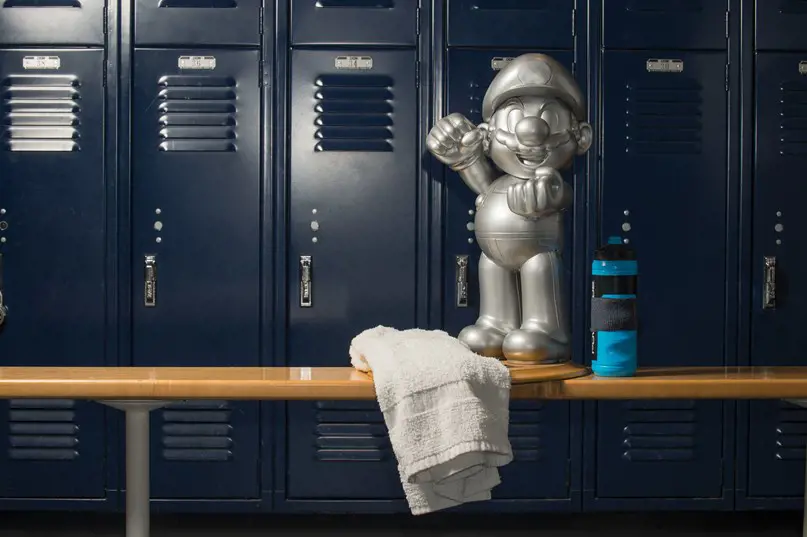 T

odd Arnold '14 had a growing interest in gaming long before attending the Red Bull eSports StarCraft II tournament in Detroit, Michigan, in 2014. But, it wasn't until working behind the scenes at the tournament's fourth qualifying location— where players sought to advance to the finals and a chance to win $100,000—that his life turned a corner.
Maybe it was the big stage with the overhead screen showing players, the flashing lights or the 1,000-plus cheering fans that prompted the young accountant to convert his mobile electronic sports business into a brick-and-mortar location. But, whatever the case, the reality is that Todd and his wife Britni (Torstenson) Arnold '11 have invested heart, soul and savings into the emerging business of competitive electronic gaming.
"I wanted to support people who want to become competitive players. I fell in love with electronic competitions while playing Dota. I played it for 14 years and really started to get competitive, but I never got anywhere with it because of school or something else," said Todd (aka, Th3 Ice King). "I was never in the news. Never in the huge tournaments. Never made money." Now, with the right moves, he could leverage a profitable future, one that not only benefits him and Britni, but also members of a growing gaming community.
Evansville Esports LLC officially opened last September in a small eastside shopping center sandwiched between The Slice and Jeanne's Gelato. The interior, once a scuffed white, quickly took on the company's blue, black and purple colors, while long tables, hulking analog TVs, monitors and gaming systems filled the rooms. Tri-state gamers gather at the new facility weekly to challenge each other in Call of Duty, Super Smash Bros. Melee, League of Legends, intent on upping their gaming skills beyond recreational to a competitive (perhaps even money-making) level. "Everybody who plays loves the pro world," Todd said. "They think, 'It'd be so cool to be paid to play video games.'"
The problem is that the road to the pros doesn't exist in the Midwest. There's no middle ground; no local infrastructure, such as Little League or college sports that puts players on a professional track. "That's what we're working toward," said Britni (aka, Paintyr), "creating that mid step so players can step up to the pros. How else do they get there?"
Some argue esports aren't "real" sports, but in 2015 ESPN broadcast the fifth annual Dota 2 tournament, in which the North American team Evil Geniuses defeated the Chinese CDEC, slicing out $6.6 million of the $18.3 million prize pool. "People complain about it not being a sport, but it is very much a sport for two reasons: one, it's entertainment, and all sports are entertaining to somebody," Todd said. "I prefer watching Dota over golf, and every golfer I know would rather watch golf than Dota. Secondly, it's a skill level that's unmatched."
"Most pros aren't in the Midwest.  Anyone who gets good goes to the coast because that's where all the other good players are, and events. The Midwest gets robbed of any talent that it has." -Todd Arnold
Esports (also known as "mind sports") have mega-fan bases, according to USA Today Sports. "More people are playing and watching esports than are watching the NBA Finals, World Series or [college bowl series]. The League of Legends Season 3 World Championship had 32 million viewers. That's more than double the World Series and NCAA Final Four."
---
When the Arnolds began holding tournaments, they had limited TVs and consoles, and offered a discount if players brought their own. This is pretty common within smaller tournaments, and players arrive toting behemoth TVs (modern digital televisions produce a lag between players' inputs and their outcomes in Smash games). Today, the couple owns more than enough setups housed in their stationary business.
Video games— think Donkey Kong, Spacewar and Pac-Man— have been a mainstay of our culture since the early 1970s, with the first known competition taking place at Stanford University in 1972. But the animated world of punching, throwing and annihilating your enemy largely lived underground where a few friends gathered to engage recreationally. That changed in 2000, when broadband Internet networks revolutionized the way players connected around the world. The Arnolds are part of a movement to bring the industry back to its roots of face-to-face play in a communal environment.
Evansville Esports is not just about creating a haven for players and offering tournaments; its mission is to cultivate a community. "Everyone is building relationships here, rather than playing some random stranger online," Todd said. "There's nothing more exciting to this particular group [Smash] than having more people to play with because it's not online."
Since incorporating Evansville Esports, the business plan (devised during Startup Weekend Evansville 3.0 held at USI) may have changed from mobile to stationary but the workload is anything but static. To ensure they grow their business into a success, the Arnolds are employing their USI educations. Todd, with a bachelor's degree in accounting, oversees the accounts and financing, while Britni employs her art degree to create marketing and branding illustrations, as well as design flyers, signs, digital banners and calendars. She handles the day-to-day operations of organizing brackets, tracking rankings and reaching out to various gaming communities through select social media channels.
As a numbers guy, Todd's not thrilled with the odds of new business success; odds of failure are 90 percent. "Accountants don't like risk at all. Eighty/twenty, bad odds. Ninety-five/five, okay; I'm more comfortable with that." But, entrepreneurship is in his DNA; both his parents own small businesses and he's got a good track record for growing the numbers. (As a student at USI, he helped increase the University's gaming club membership by 500 percent.)
"Imagine trying to startup this business. Nobody knows what esports are in the Midwest," he said. "It's a lot of hard work. We've never done anything so hard in our lives, but it's worth it. We've met a lot of great people, and that's what keeps it going. That's what makes the brain switch back over and say, 'Shut up. It's worth it.'"
Anticipating advancing the business to the next level, Todd said, "I want to see it become so much bigger than us. I'd like to see esports rival traditional sports at a local level. I'd like to see an Evansville Esports, an Indy Esports, a Louisville Esports. I'd like to be able to say, 'Hey Louisville, you've got nothing on us. Bring it on.'"
---
EE Eseif (aka, Elliot Seifert '15) has one thing on his mind when he sits down to play Super Smash Bros Melee: "What's the best option at this specific moment? Should I be aggressive and try to land a blow before he hits me, or should I bait him into thinking he can hit me and then punish his mistake?"
Ranked Evansville Esport's second-best player, Seifert's expert hitting, kicking and punching skills in fighting games earned him Esport's sponsorship to the 2014 Evolution Championship Series (EVO) in Las Vegas, billed as the world's longest-running international fighting tournament. "I've been to tournaments before, but EVO was really something special," Seifert said. "Going into two very large ballrooms and seeing people of all kinds with the same passion for gaming as me was an amazing feeling."
Seifert loves to win (as do most game players), describing this drive as self-actualization: to be the best you can be. "Playing competitively and trying really hard to beat other people fulfills that need," he said. His desire to be the best, something USI aspires to instill in all its students, will serve him well as he begins his career in marketing.