State of the U

by President Linda L.M. Bennett
---
2016-2020 Strategic Plan
---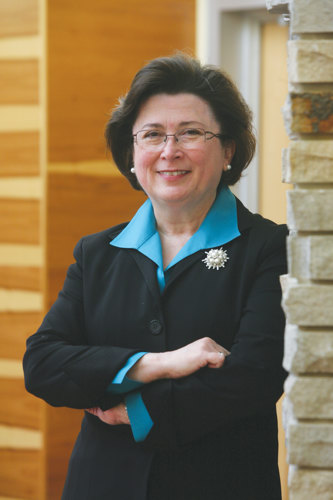 As USI heads into its next 50 years of elevating excellence, a new five-year strategic plan is being rolled out. President Linda L. M. Bennett shares insights into the plan and its importance to the University's future.
Q: When you became president in 2009, one of the first things you did was to start the planning process for the University's first strategic plan, covering 2010-2015. How has it helped to shape the evolution of this University?
A: We found evidence that by engaging in the process of developing and implementing an institutional strategic plan, it encouraged offices on campus to develop planning documents for their units. That amounts to a change in thinking and culture that will stand us in good stead as we move to the next five-year phase. Collectively, we are thinking more about the environment for higher education, how it has changed, and the role of an institution such as USI in addressing those changes and anticipating state, national and international trends.
Q: When a new five-year strategic plan was being conceived, you had some interesting conversations with Tom Wappes, information technology manager at Crane Division, Naval Surface Warfare Center, who was instrumental in creating a strategic vision for the naval base. Why was that helpful in guiding our own planning process?
A: I attended a presentation by Tom Wappes during 2013, wherein he discussed an environmental scanning process to help Crane Naval Surface Warfare Center rethink and articulate its value to Indiana and the nation. The base was being considered for closure, and Tom proposed surveying national and international trends affecting the defense industry. Learning about environmental impacts and demographic changes is true for higher education as well. All industries need to be aware of changes in the population they serve and hope to hire. What made the greatest impression on me was the journey to find ways to articulate the value of Crane in succinct powerful phrases. That's the same journey USI has been on and the inspiration for our marketing messages.
Q: Can you explain how this plan's process differs from the first?
A: The first strategic planning process reflected on what makes our community unique, and what direction we believed USI needed to take to continue to develop. We were coming together to think about our mission and vision for the future. The work from that process was so solid that we did not need to revisit the mission and vision statements. Both will be visible and serve as a guide to strategic priorities for the 2016-2020 phase.
To develop the second strategic plan, I held a retreat for President's Council to share with them the framework that Tom Wappes presented earlier that year. I ended the session with a statement and question: In 1965, we were the disruptive force for education in this region of the state. What can we learn from our history?
I asked for volunteers from the colleges to conduct an environmental scan for USI. Dean Ann White contacted Dr. Kevin Valadares, chair of Health Administration, who was very familiar with this process through his consultative work with healthcare organizations. In turn, Dr. Valadares reached out to his colleague, Dr. Matthew Hanka, director of the Master in Public Administration program. Both faculty members invited graduate students to assist in the early stages of the research process. 
Q: The new strategic plan has three main goals/components compared to six in the University's first plan. What are they, and why were they selected?
A: The three goals came from a series of discussions about the environmental scan with groups on and off campus. Kevin, Matt and I were in Chicago to present the environmental scan work at a national conference when our conversation seemed to gel around three priorities:
1. Learning Excellence for the Entire USI Community—to recruit and retain outstanding students, we must be intentional in how faculty, staff and the community continue to learn and develop.

2. Access and Opportunity by Design—intentional design of collaborative and diverse opportunities among students, faculty and staff by generating greater access between our expertise and talents and the organizations with whom we partner.

3. Purposeful and Sustainable Growth—dynamic growth in student enrollment, in full-time faculty, in programs particularly with a focus on graduate education, in reputation and in geographic reach.
Q: What is the process for executing this new strategic plan? And, will there be measurable outcomes that the University can look back on in five years to gauge the success of this plan? 
A: We will begin with a simple set of metrics for each priority. As initiatives continue to be developed within and between the three strategic priorities, additional metrics will be layered into our data dashboards to monitor progress. I am a big fan of data. We know that data can disprove assumptions but, I'm also a fan of a great story. Data need case studies, individual voices, to lend depth and texture to the impact of our work. Whether we use data or narratives, we need to remember that we are transforming lives. The work in our strategic plan has a grand purpose: to educate in ways that are lasting and to prepare individuals to continue to learn. We already have a strong reputation for educating learners of all ages, and our tagline is "Knowledge for Life." Shaping the future through learning and innovation is our focused effort. The next five years are going to be exciting!