The Spin Sports Director to be the online voice of the Otters
By Aubrey Swart '22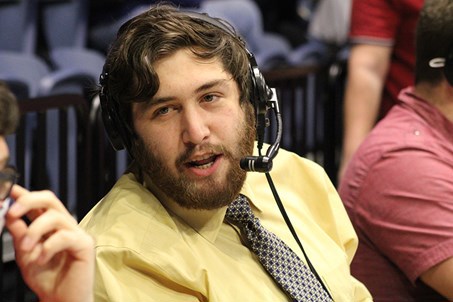 Athletics play a major role in society. Recreational and school-funded athletic organizations provide people the opportunity to get active and positively interact with others. Athletic scholarships allow athletes to pursue higher education while playing the sport they love. And professional athletic leagues provide entertainment, as people get to cheer on their favorite teams in various sports, as well as employment for those interested in all aspects of sports. Of course, when people think of athletic employment, the first thing that comes to mind is a professional athlete and, while professional athletes are an important part of professional sports, there are numerous other roles that must be filled for the league to function. One majorly overlooked career opportunity in the world of sports is sports media. Whether it is streaming the game, checking the score, or listening to the play-by-play, as social media has evolved and integrated as a part of everyone's daily lives, it has become a major component of professional sports.
Matthew Will — USI senior, Sports Management major with a concentration in Sports Communications, and aspiring Minor League Media Representative — has recently entered into this world of media and sports, as he has accepted an internship position with Evansville's own Otters baseball team. When asked about the internship selection process, Matthew explained how the Otters have a long history of selecting interns from USI as well as the University of Evansville (UE), so the team has built a good relationship with the sports management programs at both the universities. Matthew described the application process as fairly simple. He applied for the internship position with the team, the team reached out for some demo reels of his sportscasting, and then he went in for an interview. Although Matthew recalled that the interview process felt more like an hour-long conversation than a traditional interview. He explained how he felt valued as both an individual and, after he accepted the position, as a new member of the Otters' family.
Even though Matthew's internship does not begin until the start of the summer, he cannot wait to start working with the team and get to experience all the internship has to offer. As a part of his internship, Matthew will work directly under the Otters' current official media representative. Some of his duties will include frequently updating the Otters' social media, sports broadcasting the games, coordinating team travel, and anything else the team may need him to do. Matthew expressed his excitement as well as apprehension to tackle his role as team travel coordinator. As team travel coordinator, he will have to ensure that the hotels and restaurants are expecting the team and that everything goes smoothly as the team is on the road. Matthew explained how he has never had to fulfill a role like team travel coordinator before, however, he is eager for the new challenge and the professional experience that will come from it.
When asked what drew him to USI — since he is originally from Wichita, Kansas — Matthew responded that he "wanted to find a degree that gave [him] the ability to do both sports management and sports communications, which is a unique aspect of USI's program." Matthew has always had a love for the media side of sports, and he felt that USI's program was the best option to set him up for success in his field. He also felt that USI offered him a chance for a fresh start in a new town with the opportunity to meet new people and form new connections. Shortly after arriving on campus, Matthew found the connections he was looking for at the campus radio station, The Spin. He described his time at The Spin as Sports Director as one of the highlights of his time at USI, as he was able to engage with his passion for sports media while connecting with like-minded people.
Once his summer internship is completed, Matthew plans on moving back to his home state of Kansas and looking for work in the Kansas City area. He described his ideal career as a long-term media representative for a minor league team, preferably hockey or baseball. Minor league teams allow for more media involvement as well as the creation of a closer bond between the team members. Ultimately, Matthew wants to be able to form a close bond with all the coaches and players, so he can create the best experience for himself and the team.
"USI has been unreal; the campus and community have been very welcoming. I'll never forget the memories I made and the experiences I've had out here." - Matthew Will