Welcome current ENGT Majors!
Admission to Teacher Education normally occurs at the beginning a candidate's junior year and is a prerequisite for advanced field experience.
Laid out below are the current admissions and graduation requirements for ENGT Majors as well as resources that will prove useful as you begin your journey toward your English Teaching degree.  For more information, including the English Teaching Interview, please see the links at the bottom of this page.
Education Department Requirements

University cumulative GPA of 2.75 or higher

 

CMST 101 or 107 (C or higher)

 

ENG 201 (C or higher)

 

MATH 107 or 111 or 114 or 215 or 230 (C or higher)

 

Acceptable criminal background checks (contact Dr. Sarah Wannemuehler)

 

Completion of the Teacher Education Program application on Tk20

 

Recommendation of the candidate's major department advisor

 
English Department Requirements

(Must be met in order to gain the department's recommendation)

At least four courses* in the ENGT major with a major GPA of 2.75

 

Satisfactory evaluation on the ENGT Professional Disposition Inventory (please see dropdown on the right)

 

Successful English Teaching Interview (see links below for more information on interview requirements)

 

Completion of the English Teaching Interview application on Tk20

 

*Under extraordinary circumstances (such as when a student transfers into the program), the four-course requirement may be waived by majority vote of the English Teaching committee.
ENGT Professional Disposition Inventory

(3=Exemplary, 2=Adequate, 1=Inadequate, NB = no basis for evaluation)

1. Demonstrates respect and compassion for others

 

2. Acts with patience and flexibility during the learning process

 

3. Is punctual and prepared for class, appointments, and deadlines

 

4. Demonstrates academic integrity

 

5. Communicates effectively, professionally, and in a timely fashion

 

6. Expresses authentic interest in English and the teaching profession

 

Criteria for Successful Evaluation

·         A formal evaluation will be conducted on 10/1 or 3/1 (for fall or spring interviews, respectively). English faculty may opt in or out of the evaluation based on their experience with the candidate. For a candidate to pass, no item may receive an Inadequate rating by majority vote of the faculty.

·         With approval from Director of English Teaching, candidates who fail the evaluation may undergo a remediation plan and try again the following semester.

·         Candidates are encouraged to self-evaluate at several points before they apply for Teacher Education, such as in ENG 205 (Intro to English Studies and Ways of Reading) and/or ENG 244 (Writing in the Secondary Schools).
More Information and Resources for Teaching Majors can be found below:
| | | |
| --- | --- | --- |
| Teaching Interview Materials | Teaching Philosophy Materials | Advising Guides for ENGT Majors |
Student Spotlights
---
Elsie Carter-Keith (Goodwin), one of our graduating seniors, was selected as the Teacher Education's Distinguished Graduate in the Secondary Education/P-12 Program for 2022-2023.
Elsie will be honored at the Honors Day Reception in Carter Hall on March 29.
Congratulations to Elsie for her outstanding achievement in English Teaching!
---
On April 14th in Carmel, IN The Indiana Association of Colleges for Teacher Education (IACTE) will hold a recognition ceremony for Outstanding Future Educators from across the state.
USI is send five students from among all elementary and secondary education majors, and this year two of the five are English Teaching majors!
Please join us in congratulating graduating seniors Spence Farmer and Savannah Staples!
---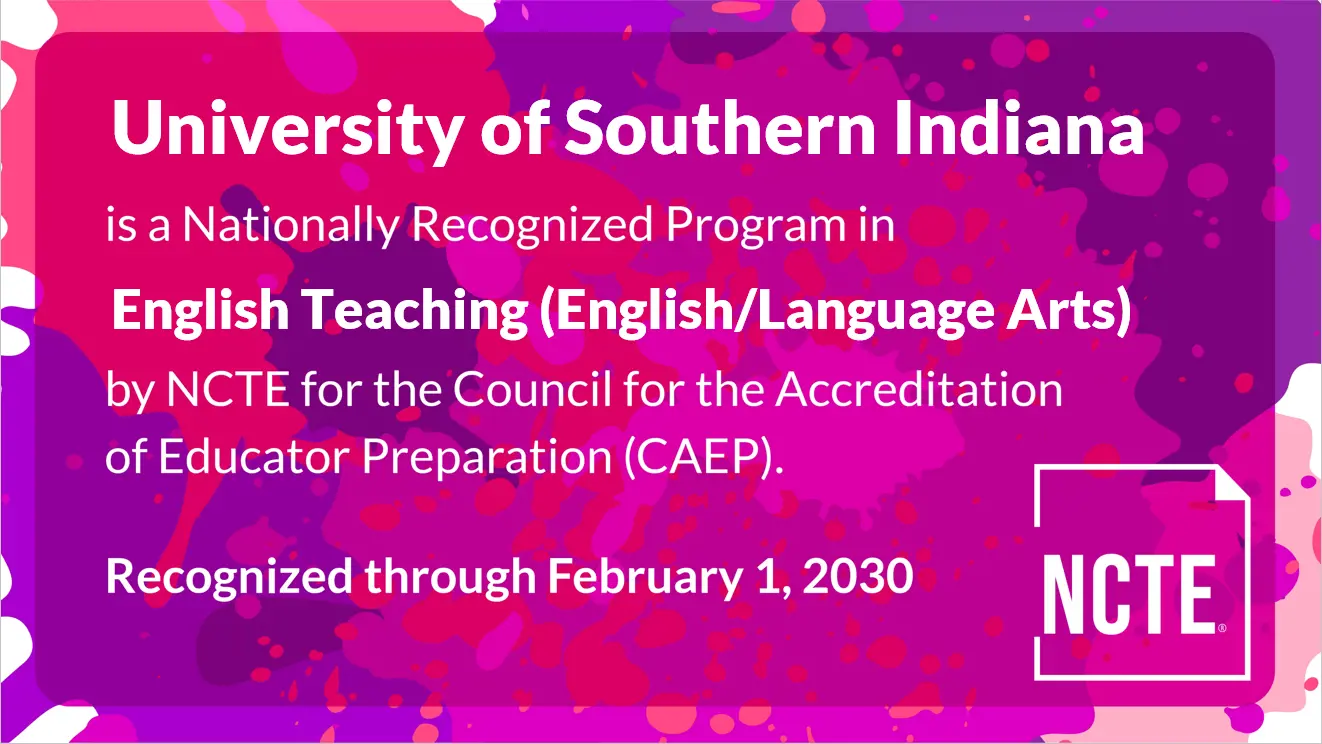 Congratulations to University of Southern Indiana's English Teaching (English/Language Arts) program on being Nationally Recognized by the National Council of Teachers of English (NCTE) for the Council for the Accreditation of Educator Preparation (CAEP)!