Spring 2018 Guests to the Reading Series
Kaveh Akbar & Ruth Awad
Thursday, February 15th
Griffin Center
4:30 pm
Central Library
6:30 pm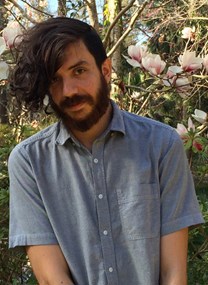 Kaveh Akbar's poems appear recently in The New Yorker, Poetry, The New York Times, The Nation, and elsewhere. His first book, Calling a Wolf a Wolf, is just out with Alice James in the US and Penguin in the UK. He is also the author of the chapbook Portrait of the Alcoholic. The recipient of a Pushcart Prize, a Ruth Lilly and Dorothy Sargent Fellowship from the Poetry Foundation, and the Lucille Medwick Memorial Award from the Poetry Society of America, Kaveh was born in Tehran, Iran, and teaches in the MFA program at Purdue University and in the low-residency MFA program at Randolph College.
Click here to listen to an audio recording of Kaveh's reading.
---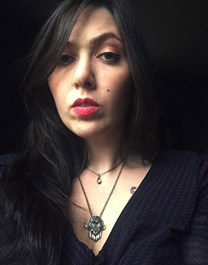 Ruth Awad is a Lebanese-American poet whose debut poetry collection Set to Music a Wildfire won the 2016 Michael Waters Poetry Prize from USI's Southern Indiana Review Press. She is the recipient of a 2016 Ohio Arts Council Individual Excellence Award, the 2012 and 2013 Dorothy Sargent Rosenberg Poetry Prize, and the 2011 Copper Nickel Poetry Prize. Her work has appeared in New Republic, The Missouri Review, CALYX, Nashville Review, The Adroit Journal, and elsewhere.
Click here to listen to an audio recording of Ruth's reading.
---
Dan Chaon 
Thursday, March 29th
Griffin Center
4:30 pm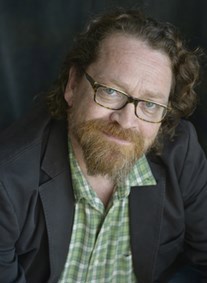 Dan Chaon's most recent book is Ill Will, a national bestseller, named one of the ten best books of 2017 by Publishers Weekly. Other works include the short story collection Stay Awake (2012), a finalist for the Story Prize; the national bestseller Await Your Reply and Among the Missing, a finalist for the National Book Award. Chaon's fiction has appeared in Best American Short Stories, The Pushcart Prize Anthologies, and The O. Henry Prize Stories. He has been a finalist for the National Magazine Award in Fiction, the Shirley Jackson Award, and he was the recipient of an Academy Award in Literature from the American Academy of Arts and Letters. Chaon lives in Ohio and teaches at Oberlin College.
Click here to listen to an audio recording of Dan's reading.
Fall 2017 Guests to the Reading Series
Casey Pycior
Thursday, September 7th
McCutchan Art Center/Pace Galleries
4:30 pm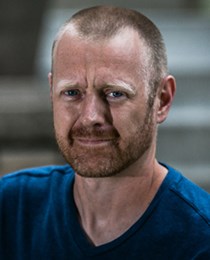 Casey Pycior's debut short story collection, The Spoils, was published by Switchgrass Books in 2017. He was awarded the 2015 Charles Johnson Fiction Prize at Crab Orchard Review, and his work has appeared in Beloit Fiction Journal, Midwestern Gothic, Harpur Palate, BULL, Wigleaf, and Yalobusha Review, among many other places. He holds an MFA in fiction writing from Wichita State University and a PhD in creative writing from the University of Nebraska-Lincoln. Pycior joined the English Department at USI this Fall (2017).
---
Matthew Guenette & Maggie Smith
Thursday, October 12th
Griffin Center
4:30 pm
Red Bank Library
6:30 pm
Matthew Guenette is the author of three full-length poetry collections: Vasectomania (University of Akron Press, 2017), American Busboy (University of Akron Press, 2011), and Sudden Anthem (Dream Horse Press, 2008). He is also the author of the chapbook Civil Disobedience (Rabbit Catastrophe Press, 2017). His poems have appeared in numerous journals and reviews, and he has had residencies at the Vermont Studio Center and the Hessen-Wisconsin Fellowship. A graduate of the MFA program at Southern Illinois University, Matt currently teaches composition and creative writing at Madison College in Madison, WI, where he lives with his wife, two kids, and a 20-lb cat named Butternut.
---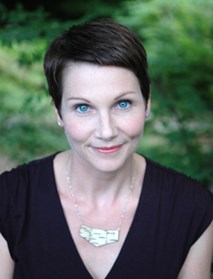 Maggie Smith is the author of three books of poetry: Good Bones (Tupelo Press, September 2017); The Well Speaks of Its Own Poison (Tupelo Press, 2015); and Lamp of the Body (Red Hen Press, 2005). Smith is also the author of three prizewinning chapbooks. Her poems appear in The Best American Poetry, the New York Times, The Paris Review, Ploughshares, The Gettysburg Review, Guernica, Plume, AGNI, Virginia Quarterly Review, and elsewhere. In 2016 her poem "Good Bones" went viral internationally and has been translated into nearly a dozen languages. Public Radio International called it "the official poem of 2016."