Fall 2018-Spring 2019 Guests
The Southern Indiana Reading Series is made possible by the Indiana Arts Commission; the Vanderburgh Community Foundation Alliance; and the National Endowment for the Arts, a federal agency.
Spring 2019 Guests to the Reading Series
Hanif Abdurraqib & Elena Passarello
Tuesday, February 19thPerformance Center
4:30 pm
Hanif Abdurraqib is a poet, essayist, and cultural critic from Columbus, Ohio. He is the author of The Crown Ain't Worth Much, nominated for a Hurston-Wright Legacy Award and They Can't Kill Us Until They Kill Us, named a best book of 2017 by NPR, Pitchfork, Oprah Magazine, The Chicago Tribune, Slate, Esquire, GQ, and Publisher's Weekly, among others. Abdurraqib has multiple forthcoming books including a book on A Tribe Called Quest titled Go Ahead In The Rain, the new collection of poems A Fortune For Your Disaster and a history of Black performance in the United States titled They Don't Dance No Mo'.
Click here to listen to an audio recording of Hanif's reading.
---
Elena Passarello is an actor, a writer, and the recipient of a 2015 Whiting Award. Her second essay collection with Sarabande Books, Animals Strike Curious Poses, was named a Notable Book of 2017 by The New York Times Book Review, and her first, Let Me Clear My Throat, won the gold medal for nonfiction at the 2013 Independent Publisher Awards. Her essays on performance, pop culture, and the natural world have been published in Oxford American, Slate, Creative Nonfiction, and The Iowa Review, among others.

Click here to listen to an audio recording of Elena's reading.
---
Meg Day & Marty McConnell
Wednesday, March 20th
Griffin Center
7:00 pm
Meg Day is the author of Last Psalm at Sea Level, winner of the Barrow Street Press Poetry Prize and The Publishing Triangle's 2015 Audre Lorde Award. Day is the author of two chapbooks: When All You Have Is a Hammer (winner of the 2012 Gertrude Press Chapbook Contest), and We Can't Read This (winner of the 2013 Gazing Grain Chapbook Contest). Day's poems appear or are forthcoming in recent anthologies, including Best New Poets of 2013,  We Will Be Shelter: Poems for Survival edited by Andrea Gibson, and Troubling the Line: Trans & Genderqueer Poetry & Poetics.
Click here to listen to an audio recording of Meg's reading.
---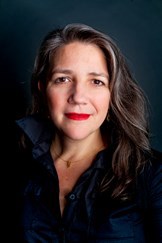 Marty McConnell's first poetry collection, wine for a shotgun, received the Silver Medal in the Independent Publishers Awards, and was a finalist for both the Audre Lorde Award and the Lambda Literary Awards. Her second poetry collection, when they say you can't go home again, what they mean is you were never there, won the 2017 Michael Waters Poetry Prize. Gathering Voices: Creating a Community-Based Poetry Workshop, McConnell's first book of nonfiction, was recently published by YesYes Books. She is a seven-time National Poetry Slam team member, the 2012 National Underground Poetry Individual Competition (NUPIC) Champion, and appeared twice on HBO's Def Poetry Jam.
Click here to listen to an audio recording of Marty's reading.
---
Matthew Graham
Thursday, April 11thGriffin Center
4:30 pm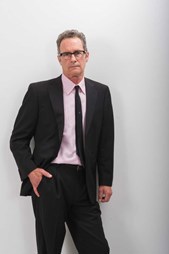 Matthew Graham is the author of three previous books of poetry, New World Architecture (Galileo Press, 1985), 1946 (Galileo Press, 1991) and A World Without End (River City Publishing, 2006), and the recipient of awards and fellowships from the Academy of American Poets, Pushcart, the Indiana Arts Commission and the Vermont Studio Center. Graham is a Professor of English at the University of Southern Indiana. He will be reading from his new book of poetry, The Geography of Home.
Click here to listen to an audio recording of Matthew's reading.
---
Fall 2018 Guests to the Reading Series
Chelsea & Mark Wagenaar
Thursday, September 27th
Griffin Center
4:30 pm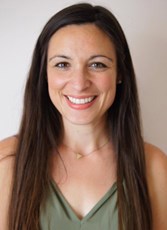 Chelsea Wagenaar is the author of Mercy Spurs the Bone, selected by Philip Levine as the winner of the 2013 Philip Levine Prize, and The Spinning Place, winner of the 2018 Michael Waters Poetry Prize. She holds a PhD in English literature and creative writing from the University of North Texas. Recent poems appear or are forthcoming in Cave Wall, Birmingham Poetry Review, and The Southern Review, and recent nonfiction appears in Grist. Wagenaar currently teaches as a visiting assistant professor at Valparaiso University. She lives in Indiana with her husband, poet Mark Wagenaar, and their two children.
Click here to listen to an audio recording of Chelsea's reading.
---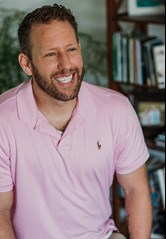 Mark Wagenaar is the 2016 winner of Red Hen Press's Benjamin Saltman Prize for Southern Tongues Leave Us Shining. His first two collections, The Body Distances (A Hundred Blackbirds Rising) and Voodoo Inverso, won UMass Press's Juniper Prize and the University of Wisconsin Press's Felix Pollak Prize in Poetry, respectively. His poems have appeared in or are forthcoming from The New Yorker, Tin House, 32 Poems, FIELD, The Southern Review, Image, and many others. Wagenaar teaches literature and creative writing at Valparaiso University.
Click here to listen to an audio recording of Mark's reading.
---
Michael Martone
Thursday, October 4th
Traditions Lounge
4:30 pm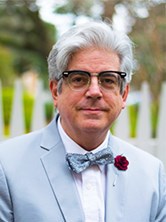 Michael Martone was born & raised in Fort Wayne, Indiana. He is a professor of English at the University of Alabama and the author of several books, including Fort Wayne Is Seventh on Hitler's List, Alive and Dead in Indiana, Unconventions: Attempting the Art of Craft and the Craft of Art, and Racing in Place: Collages, Fragments, Postcards, Ruins. His latest collection of essays, Brooding: Arias, Choruses, Lullabies, Follies, Dirges, and a Duet, was released by University of Georgia Press in March 2018.
Click here to listen to an audio recording of Michael's reading.
James Han Mattson
Thursday, November 8th
Kleymeyer Hall
4:30 pm
James Han Mattson was born in Seoul, Korea, and raised in North Dakota. He has worked as a staff writer and editor for Pagoda Foreign Language Institute, the Korean National Commission for UNESCO, and Logogog–South Africa. His first novel, The Lost Prayers of Ricky Graves, was an Amazon Literature and Fiction Pick, an Amazon Best Book of the Month, a Publishers Lunch Bookseller Pick, a Kindle First Pick, a New York Post Required Reading, and was featured on NPR's Weekend Edition with Scott Simon. He is currently an assistant professor of creative writing at Murray State University.
Click here to listen to an audio recording of James's reading.