Aakhus Travel Scholarship
The Patricia L. Aakhus International Studies Travel Scholarship is available to students majoring in global studies at USI. Recipients utilize the award for international travel, supporting their desire to see other countries and enriching their college experience.
Students may apply providing a one-page essay outlining the intended use of the award and describing what the applicant hopes to gain from his/her international travel experiences. Contact Dr. Sukanya Gupta, director of Global Studies, for more information.
Aakhus Travel Scholarship Testimonials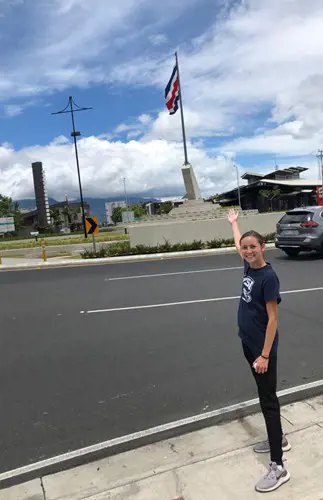 Carlie Syczylo
Double Major: Spanish and Global Studies

"As a double-major in Spanish and Global Studies, I took the opportunity to study abroad in a Spanish-speaking country for five months. The University of Costa Rica, located in San José, is considered one of the best public universities in Central America. Enrolling here, taking classes alongside local students and professors, and living with a Costa Rican family has allowed me to achieve my goal of Spanish fluency. Not only am I learning Spanish, but I am also living the same lifestyle as the locals, known here as "ticos". For this reason, I feel well equipped to embark on a career where Spanish skills will be necessary in our globalized world. Learning another language to a level of fluency has enriched my life in ways that I never would have imagined. All of this was made possible by the support and encouragement I received from the Global Studies department at USI and its gracious Aakhus Travel Scholarship that was awarded to me in Spring 2022. With the scholarship, I was able to pay for all my flights in full, including the return flight to the United States. This relieved a large portion of financial stress and gave me freedom to travel more within Costa Rica to experience coastal and mountainous lifestyles, which are fundamental to cultural, economic, and political development here. I am so thankful for having been awarded the Aakhus Travel Scholarship, which I will continue to pay forward in all my endeavors."
Carlie's Trip to San Jose, Costa Rica
Photos provided by Carlie Syczylo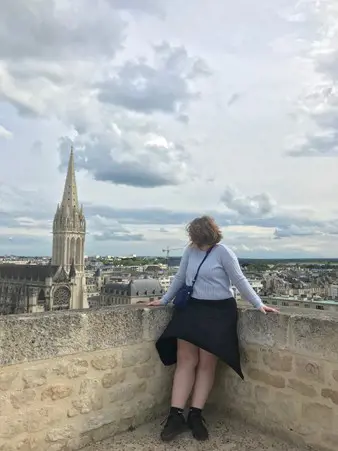 Alexandria Brennan
Major: Global Studies | Minor: Anthropology
"I have returned from my travels, and I have to say without this award I would not have been able to travel at all! I would have stressed about the money and how it was currently putting financial stress on my family. However, the $600 awarded covered the last of the tuition and gave me a free ride to my program tuition-wise. Because of this, I was able to fully enjoy myself without the access stress of finances, and had to only focus on transportation and food. Attached are a few images from my travels into the city of Caen, and the others are pictures of Saint Mount. Michael, as it was one of the excursions that was a part of my program. It was a lovely time, although the weather was spotty at times, but it did not stop me from having a great time! I learned so much about the rich history of the town and of Saint Michael, and I wouldn't trade it for the world. Thank you so much for this opportunity!"
Alexandria's Trip to Caen, France and Saint Mount Michael
Photos provided by Alexandria Brennan