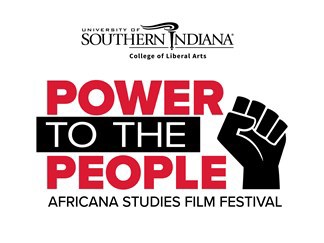 "I cannot go into a film without seeing myself. I wait for me. In the interval, just before the film starts, I wait for me."
–Frantz Fanon
The University of Southern Indiana Africana Studies Program presented the first annual Africana Film Festival in the Spring 2020 semester.
The Spring 2020 theme was "Power to the People" and showcased films that highlight African American activism from the 1960s Civil Rights Movement to today.
Title
Date
Description

Free Angela and All Political Prisoners (2012)

Director: Shola Lynch

Followed by discussion with Dr. Denise Lynn, Director of Gender Studies

January 30, 2020

College professor Angela Davis' social activism implicates her in a botched kidnapping that ends with four people dead and her name on the FBI's most-wanted list. 

Malcolm X (1992)

Director: Spike Lee

Followed by discussion with Mr. D'Angelo Taylor, Assistant Director of the Multicultural Center

February 27, 2020

A tribute to the controversial black activist and leader of the struggle for black liberation. He hit bottom during his imprisonment in the '50s, he became a Black Muslim and then a leader in the Nation of Islam. His assassination in 1965 left a legacy of self-determination and racial pride.

The Hate U Give (2018)

Director: George Tillman, Jr.

Followed by discussion with Dr. Laura Soderberg, Assistant Professor of English

March 26, 2020

Starr Carter is constantly switching between two worlds -- the poor, mostly black neighborhood where she lives and the wealthy, mostly white prep school that she attends. The uneasy balance between these worlds is soon shattered when she witnesses the fatal shooting of her childhood best friend at the hands of a police officer. Facing pressure from all sides of the community, Starr must find her voice and decide to stand up for what's right.