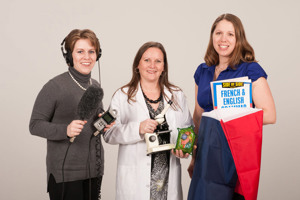 Jaclyn Dumond, manager of school partnerships in the Department of Outreach and Engagement, refers to herself and her College Achievement Program (CAP) staff as "conductors" which seems an appropriate term considering the orchestration that takes place. Dumond, along with Dana Drury, program coordinator, and Erin Hollinger, senior program assistant, work to establish relationships between area high school instructors and USI faculty, and to facilitate training workshops. Connecting 130 active instructors and 33 liaisons and finding a good fit adds another clever team title, "matchmakers".
CAP offers dual credit to junior and senior high school students who want to challenge themselves with more rigorous coursework, get a taste of the college experience, and earn credit toward a college degree. The courses are taught by carefully selected high school instructors who meet USI adjunct faculty qualifications. Instructors undergo yearly training with a USI faculty liaison to make sure expectations for CAP students match the expectations and rigor of the USI course. "We review the syllabus, assignments, and student's work with the teacher, making sure these meet USI's standards,"said Dr. Tamara Hunt, professor of history and liaison for European history.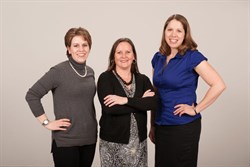 The program, one of 89 programs in the nation accredited by the National Alliance of Concurrent Enrollment Partnerships, has proven to be beneficial across the board. For high school students, CAP courses offer challenging classes in the comfort of a familiar high school setting. "This is a safe way to test it out before you move into a dorm, buy a refrigerator, and pay 10 grand," said Dumond. "There's a heavy investment involved in going on as an undergraduate student – for $80 per credit hour you can try it out for one or two courses." She recalls being a "big fish in a small pond" throughout high school and being intimidated when entering college. "It's important to the students who need a little confidence boost," she said. "I hadn't had opportunities like this, and I was overwhelmed."
Many courses fall in line with required core in both high school and most universities. "It reduces the duplication of content many students will have between their senior year of high school and their freshman year of college," said Taylor Gogel '13, a former Heritage Hills High School CAP student and a current intern for USI's Center for Applied Research and Economic Development. The extra time gives students opportunities to double major, add a minor, study abroad, or gain experience through internships.
High school instructors gain insight into expectations that college will have for their students. "There's a chain of learning," said Dr. Silvia Rode, chair of world languages and cultures, and associate professor of German. "Serving as a liaison keeps continuity. CAP gives me the opportunity to see the students I may get a year or two down the line."
Ultimately, the program promotes the University brand. "We're helping high school students see USI as a viable choice for their academic career," said Dumond. "CAP underscores the University's commitment to facilitate a model of innovative educational partnerships," added Gogel.
The work that Dumond, Drury, and Hollinger are doing is paying off with approximately 2,500 students enrolled and 10,700 credit hours tallied this past year. "They're incredibly efficient at organizing and running the program," said Hunt. "We're lucky to have such good colleagues and great professionals at USI. They're part of the reason our dual credit program is so highly ranked in the nation." ♦