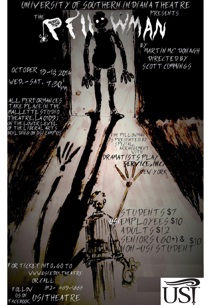 The University of Southern Indiana Theatre opens the 2014 fall season with a student-directed and -designed performance of The Pillowman by Martin McDonagh, running October 15-18 in the Mallette Studio Theatre on the lower level of the Liberal Arts Center on USI's campus.
The play is directed by theatre major Scott Cummings. He will be joined by a USI student design team including Dara Turner as costume designer, Rachel Thomas as lighting designer, Alexander F. Hellenberg as music composer and sound designer, and Christy Thompson as scenic designer. While each of the students was mentored by theatre faculty during the design process, assistant professor of theatre, Eric Altheide, choreographed the fight scenes.
The cast includes USI students Cameron Ward as Tupolski, Jesse Rininger as Katurian, Zachary Leonard as Ariel, Samuel Wentzel as Michal, Enjoli Drake as Mother, Arden Foster Tiede as Father, Stephanie Sauerheber as Girl and Chynna Hall as Understudy Girl.
The Pillowman includes narrations and reenactments, which often depict violence against children, of several short stories written by the main character, Katurian. It takes on such issues as freedom of speech, religious persecution and police brutality. The Pillowman also contains violence, gore and disturbing material.
Tickets are $7 for USI students, $12 for adults, and $10 for USI employees, seniors (60+) and non-USI students. To purchase tickets or for more information, visit www.usi.edu/theatre or call the box office at 812-465-1668. Follow us on Facebook at USITheatre for updates and photos.
The remaining lineup for USI Theatre's 2014-2015 season includes Lysistrata, adapted from Aristophanes and written by Elliot Wasserman, running November 19-23.
Opening the spring season in the new USI Teaching Theatre is Picnic by William Inge. The production is part of the Repertory Project - a co-production of New Harmony Theatre and USI Theatre and runs February 25-March 1. The final show of the spring season, Spring Awakening with book and lyrics by Steven Sater and music by Duncan Sheik, based on the play by Frank Wedekind, runs April 22-26. Tickets for the upcoming productions are on sale now.
All performances in the 2014-15 season contain adult themes and language. Spring Awakening also includes nudity.