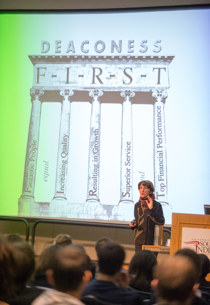 Students at the University of Southern Indiana will present information this week that could potentially result in huge savings for a local hospital. The final pitches for USI's Romain College of Business Ideation and Innovation course will be presented from 3-5 p.m. Thursday, December 11, in USI's Business and Engineering Center, Room 0035 to a panel, including the dean of the College and a team of managers from Deaconess Health Systems. 
At the beginning of the fall semester, Linda White, president and CEO of Deaconess Health Systems and USI's 2014 Executive in Residence, along with several of her colleagues posed three issues to the class that the hospital has been struggling with. These three areas include:
What could be designed to minimize the number of patient falls out of beds?
What could be designed to automate menu ordering for patients to replicate room service?
What kind of device could be used to do blood testing at home, with results sent to the physician?
These issues can, and do, result in millions of dollars in added costs to Deaconess. Seven USI student teams worked on innovative ideas to address these issues. They visited the hospital to gain primary research information and performed a lean feasibility/market analysis to support ideas to address specific needs within the problem areas.
The Ideation and Innovation course offers students opportunity for immersion into entrepreneurial mindset development; innovative thought, openness to new ideas, recognizing opportunities, collaboration and team coaching. "The entrepreneurial mindset is not just about being an entrepreneur," said Bryan Bourdeau, USI instructor in business. "It's about possessing unique thought processes and the actions of complete ownership of whatever you're involved in; it's also about effectively and efficiently communicating your ideas."
This course is designed to provide students with foundational ideation/innovation concepts, as well as engaging them in reality-based ideation. "The objective is for the student to develop an awareness and ability to understand the role ideation and innovation play in today's value creation process," said Bourdeau. 
Ideation and Innovation is one of three unique courses that make up the USI Romain College of Business Entrepreneurship Minor, nationally recognized in 2014 as an Outstanding Emerging Entrepreneurship Program by the United States Association for Small Businesses and Entrepreneurs in its Excellence in Entrepreneurship Education competition.
"We invite other companies, large and small, that have ongoing problems and pains, to potentially resolve those issues by tapping into the creative intellectual capital that our students possess," said Bourdeau, who sees the potential to grow the program at USI.
For more information contact Bryan Bourdeau at bbourdeau@usi.edu or 812-461-5247.