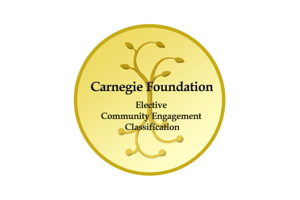 The University of Southern Indiana has been selected by the Carnegie Foundation for the Advancement of Teaching as one of 240 U.S. colleges and universities to receive its 2015 Community Engagement Classification. USI first received this classification in 2008 and has now been successfully reclassified in 2015. Additionally, 121 institutions earned the classification during the 2010 selection process, bringing the total to 361 campuses nationwide to hold the designation.
Colleges and universities with an institutional focus on community engagement were invited to apply for the classification as part of an extensive restructuring of the Carnegie Classification of Institutions of Higher Education. Unlike the Foundation's other classifications that rely on national data, this is an "elective" classification—institutions participated voluntarily by submitting required materials describing the nature and extent of their engagement with the community, local or beyond. This approach enabled the Carnegie Foundation to address elements of institutional mission and distinctiveness that are not represented in the national data on colleges and universities.
In its notice to the University of reclassification, the Carnegie Foundation said USI "documented excellent alignment among campus mission, culture, leadership, resources and practices that support dynamic and noteworthy community engagement, and responded to the classification framework with both descriptions and examples of exemplary institutionalized practices of community engagement."
"This is the first time that there has been a reclassification process," said Amy Driscoll, consulting scholar for the Community Engagement Classification, "and we are seeing renewed institutional commitment, advanced curricular and assessment practices and deeper community partnerships, all sustained through changes in campus leadership, and within the context of a devastating economic recession."
The Foundation, through the work of the Carnegie Commission on Higher Education, developed the first typology of American colleges and universities in 1970 as a research tool to describe and represent the diversity of U.S. higher education. The Carnegie Classification of Institutions of Higher Education (now housed at Indiana University Bloomington's Center for Postsecondary Research) continues to be used for a wide range of purposes by academic researchers, institutional personnel, policymakers and others.
US News Names USI Graduate Nursing Program to Best Online Programs
The University of Southern Indiana's Master of Science in Nursing program, offered through the College of Nursing and Health Professions, was ranked 36th in the nation by U.S. News and World Reports as part of its Best Online Programs rankings released Wednesday.
"I'm pleased that the quality of our graduate nursing program has been recognized by this organization," said Ann White, dean of USI's College of Nursing and Health Professions. "This recognition acknowledges the expertise and dedication of our nursing faculty and the quality of our exceptional students."
U.S. News ranked schools based on five general categories: student engagement, faculty credentials and training, peer reputation, student services and technology, and admissions selectivity.