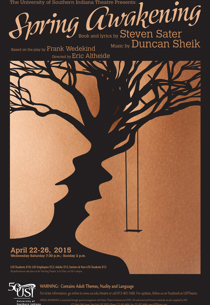 The University of Southern Indiana Theatre will close its 2015 spring season with the musical Spring Awakening, based on a play by Frank Wedekind and directed by Eric Altheide, assistant professor of Theatre, with book and lyrics by Steven Sater and music by Duncan Sheik. The production runs April 22 - 26 in USI's new Performance Center.
Spring Awakening tells the story of a group of young men and women who travel the uneasy and rocky path of adolescence, discovering their bodies, their minds and themselves along the way. An electric and energetic celebration of youth and rebellion, this story rolls issues of morality, sexuality and rock and roll into a show that packs a passionate punch.
The cast includes USI students Presley Roy as Wendla, Enjoli Drake as Martha, Aimee Bonnet as Thea, Katie Jones as Anna, Brandis DeWilligen as Ilse, Cody Parker as Melchior, Nick Smith as Moritz, Nolan Spinks as Hanschen/Rupert, Craig Belwood as Ernst/Reinhold, Luke Bockelman as Georg/Dieter, Tim Luzack as Otto/Ulbrecht, Melissa "Moe" Brown as the Adult Women, Andrew Duvall as the Adult Men and Marci Kreutzer, Austin Tenbarge and Hope Williams as the ensemble/swings.
Altheide is joined by a design team including USI faculty and staff members, Shan Jensen as costume designer, Anne Benson as scenic designer, Kevin Gray as sound designer and engineer; USI student Erik McCandless as lighting designer; and Evansville community members Patrick Ritsch as musical director and Joshua Crouch as choreographer.
Not only does this powerful show have live vocals, it also will feature a live band. The musicians, led by Ritsch on the keyboard, include community members Tyler Simpson (keyboard), Jimmy Schraeder (viola), Kennedy Erwin (cello), Grayson Gerni (guitar), Adam Clark (bass), Allison Field (drums) and Samantha Waddell (violin).
Tickets, on sale now, are $10 for USI students, $15 for adults, $12 for USI employees and $13 for seniors (60+) and non-USI students. Shows start at 7:30 p.m. Wednesday-Saturday and 2 p.m. on Sunday. To purchase tickets or for more information, visit usi.edu/theatre or call the box office at 812-465-1668.
This show includes adult themes and language, gun shots, possible haze and nudity.