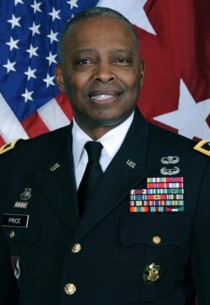 Major General Barrye L. Price will be the keynote speaker for the University of Southern Indiana's annual Dr. Martin Luther King, Jr. Memorial Luncheon at 11 a.m. Monday, January 18,  in Carter Hall in the University Center West.
Price is the Deputy Chief of Staff, G-1 Army Forces Commander in Fort Bragg, North Carolina. In 1997, he was the first African-American to obtain a doctorate from the Department of History of Texas A&M University.
He served on the President and First Lady's Task Force on "Raising Responsible and Resourceful Teenagers" in 2000, and is the author of the 2001 book, Against All Enemies Foreign and Domestic: A Study of Urban Unrest and Federal Intervention Within the United States.
Tickets may be purchased beginning December 7 at the USI Multicultural Center (Room 1244, University Center East). Tickets are $5 for USI students, $10 for USI employees and $15 for the general public. Call 812-465-7188 for more information.
This event is sponsored by the USI Foundation and the USI Multicultural Center, and also will include entertainment by student and community groups.