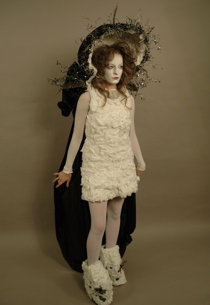 Under the direction of Rob Millard-Mendez and Deborah Ball, over 40 USI students will showcase their original wearable art pieces, runway-style, at 7 p.m. Tuesday, May 3 in the David L. Rice Library Auditorium, room 0017. This event is free and open to the public.
Mendez and Ball took an innovative approach to their Design and Materials classes by allowing students the opportunity to create their own wearable art as part of their final project for the course. Given a month, and all creative control, students work as a one-person show to design and construct their masterpieces.
In the past, students have used materials such as cotton balls, plastic cups and forks, and even created a piece which utilized a smoke machine. This year's show will continue the tradition of ingenuity with themes such as animals, body image and hot-button political topics. 
Inspired by the work of American performance artist, Nick Cave, Mendez and his wife, Nancy Raen-Mendez instructor in art at USI, were motivated to share Cave's artistic approaches with USI students and offer them a chance to showcase their inventive work to the public. "It's fun, and the students get a theatrical experience to showcase their work," said Mendez, "It's a nice community builder and a great event."