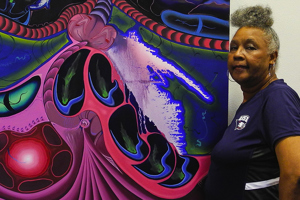 "A mom away from home," "the heart of the Art and Design Department"; these are ways Virginia Thomas, administrative assistant in Art and Design, has been described. "I've seen Virginia go above and beyond expectations innumerable times in my years at USI. Her selflessness and hard work are inspirational," said Rob Millard-Mendez, associate professor of art. "Virginia has never missed a deadline," said Dr. Hilary Braysmith, professor of art history. "Virginia is a delight. She is the life of the department and contributes to a very positive atmosphere. She is a beloved member of the Art and Design family," Braysmith said.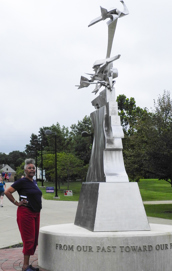 It is these qualities that earned her the 2016 Staff Council Employee Recognition Award. The announcement came at the annual Employee Recognition Luncheon. Out of a record-breaking 17 nominees, Virginia earned top spot. When her name was called, "I felt like I was at the Oscars or the Grammys," she said. "I'm trying to remember everything about it because I want to keep it in mind; it was so special."
Virginia came to USI 15 years ago as a temporary worker in the Registrar's Office before settling in her permanent home in the Art Department in 2002. Working around creative minds was something Virginia was used to. Her boyfriend of 20 years was a musician and poet who passed away several years prior, and being around creative people made her feel closer to him. "I don't think I would have meshed as well with any other department," she said.
While Art Club trips to Chicago and working at the corn booth at the West Side Nut Club Fall Festival rank high in her fond memories over the past 15 years, it is her interaction with students that she holds deepest in her heart. She attends the student art shows to show her support and is also available for the occasional pep talk when students need one. She is often the first voice on the phone and first face they see in the Art Center, and she is always willing to give students the push and encouragement they need.
"Since I was 12 years old, I wanted to teach. I do that here. I may not be teaching in a classroom or a text book, but I teach the students like they were my kids or grandkids," said Virginia. It is her firm but nurturing manner that keeps students coming back to visit their "mom away from home" long after they graduate. "Students who are getting ready to graduate have told me 'I don't know what I'm going to do. I'm going to miss you.' I develop a relationship with them. I call them 'my kids or my students,'" she said.
Virginia says it's the students who give her a young mentality. "It also doesn't hurt that in the morning I turn on the radio, and if there's something I want to dance to, I'm dancing," she said. "Sometimes I can't even get dressed because I'm like 'Oh, that's my jam!"
Virginia will break more than a few hearts when she retires. "After 50 years in the work force, it's coming soon," she said. "I say that, but I've yet to go to Human Resources and fill out any paperwork." Once that day does come, she plans to do volunteer work at nursing homes. She also plans to work part-time…at USI perhaps?
See a list of other support staff employees who celebrated important career milestones.