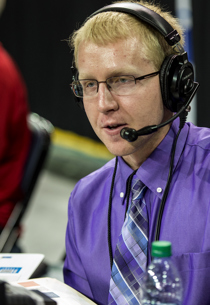 Jevin Redman, sports director for University of Southern Indiana's campus radio station WSWI and a senior marketing major, was awarded the Indiana Broadcasting Association (IBA) Spectrum Award for Sports – Radio Market 1 at the association's 2016 annual conference in Carmel.
"It was an honor to be in the same room with the people I grew up watching and listening to," said Redman. "I'm not really concerned with getting awards, but it's proof that you're doing it the right way."
The IBA Spectrum Awards recognize the top radio and television broadcasters in Indiana. Radio Market 1 includes all stations in the Indianapolis Metro Area, Evansville, Fort Wayne and South Bend.
"Jevin has won many other broadcasting awards where he was up against other college students. But, in this case, he was competing against professional broadcasters from Indiana's largest radio markets," said John Morris, general manager of WSWI and USI instructor in radio/TV. "Fans of USI sports are very fortunate to be able to listen to Jevin announce Screaming Eagles games on the radio. He has a great base of natural talent and has worked incredibly hard to improve over the years."
Redman is the play-by-play voice of USI Men's and Women's Basketball and Baseball for WSWI, and was the voice of the 2014 baseball Division II national championship team. In May, he was named the 17th-best collegiate sports broadcaster in the nation by the Sportscasters Talent Agency of America, the only student from an NCAA Division II school recognized by the agency in 2016.