Three earn promotions at USI
Three earn promotions at USI
1/4/2017 |
University Communications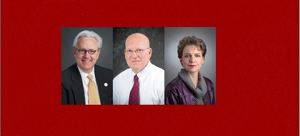 Three administrative promotions at the University of Southern Indiana were announced during the opening meeting of the 2017 spring semester by Dr. Linda L. M. Bennett, president. The changes are effective February 1, 2017.


David A. Bower, director of development and president of the USI Foundation, has been promoted to vice president for development while continuing as president of the USI Foundation. He is a graduate of Saint Meinrad College and has master's degrees from the Catholic University of Louvain Belgium and the University of Evansville. He began his position in the USI Foundation 23 years ago as a special gifts officer and worked his way to the top post, leading the Foundation for the past decade. He earned the Certified Fundraising Executive designation in 1999.

"The recent completion of Campaign USI: Elevating Excellence, raising more than seven million dollars over the stated 50 million dollar goal is one of David's many accomplishments," said USI President Dr. Linda L. M. Bennett. "The generous response of our community is a tribute to David's pride and enthusiasm for USI and I am pleased to offer this promotion as a natural progression of his career with the University."


Richard Toeniskoetter, executive director of Information Technology has been promoted to chief information officer. He joined USI more than five years ago from Northern Arizona University where he was a technology director for eight years. Prior to that, he worked in the telecommunications industry for 16 years. He is a graduate of The Ohio State University with both bachelor's and master's degrees.

"This recognition is well deserved as Richard has worked to modernize USI's systems and Information Technology processes," noted Bennett. "We rely on him to maintain standards for the University in an ever changing and complex IT landscape."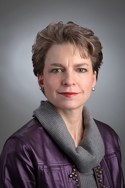 Additionally, Dr. Katherine Draughon, executive director of Planning, Research and Assessment, has been promoted to chief data officer. She has been employed at the University for 10 years. Originally appointed as director of Institutional Research, she also has taken on the duties of overseeing the grants office. Prior to USI, Draughon served as a private research consultant in higher education. She has a bachelor's degree from the University of Texas at Arlington, a master's degree from Colorado State University and both a master's and her doctorate from the University of Illinois at Chicago.

"We recognize Kat as the data diva at USI due to her strength in data collection and analysis," said Bennett. "She also has been instrumental in the University's reaccreditation process and both the first and current strategic plan."