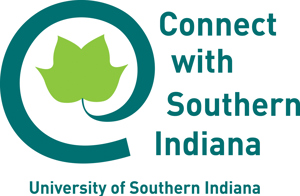 Eighteen individuals have been selected to participate in the University of Southern Indiana's 2017 Connect with Southern Indiana program. Now in its 11th year, Connect with Southern Indiana is focused on promoting active citizenship for individuals across a nine-county region in southwest Indiana.
The program is in its fifth year of using the Romain College of Business Entrepreneurship Initiative model for course content. Participants will attend 10 full-day sessions focusing on divergent and analytical thinking, idea generation, communication and strategic entrepreneurship from a community development perspective. The program will culminate with a class collaborative project in May 2017.
The class will meet on-site in a new historic southern Indiana county for each session:
January 13 – Warrick County
January 27 – Spencer County
February 10 – Gibson County
February 23 - 24 – Posey County (New Harmony overnight stay)
March 3 – Knox County
March 17 – Perry County
April 7 – Dubois County
April 21 – Pike County
May 5 – Vanderburgh County
The Connect with Southern Indiana program is open to current USI students, faculty and staff, and Indiana residents living in Dubois, Gibson, Knox, Perry, Pike, Posey, Spencer, Vanderburgh or Warrick counties who would like to improve the quality of life in their communities.
The 2017 class includes:
Dubois County:                                                    
Jenell Schue, supervisor of central scheduling, Memorial Hospital and Health Care Center
Gibson County:
Kelly Kelley, administrator, Gibson County Health Department
Melissa Walden, director of marketing and development, The Arc of Gibson County
Knox County:
Martha Vance, business and industry coordinator, Vincennes University
Pike County:
Sarah Hopkins, 4-H youth development educator, Purdue Extension Pike County
Posey County:
Allison Brown, senior gallery associate, USI New Harmony Gallery of Contemporary Art
Casey Trela, director of financial aid, Ivy Tech Community College
Spencer County:
Sara Dzimianski, extension educator, Purdue Extension Perry County
Nicole Osborne, human resources and development coordinator, Lincoln Hills Development Corp
Vanderburgh County:
Caylin Blockley, assistant director, USI Alumni and Volunteer Services
Loc Duong, admission assistant, USI Center of International Programs
Echo Ira, market research analyst, Vectren Corporation
Rasheedah Jackson, childcare and development director, Memorial Community Development Corporation
Erin Merris, community engagement manager, USI Historic New Harmony
Tammy Oliver, recruiting supervisor, USI Career Services and Internships
Chaze Patrick, marketing intern, USI Outreach and Engagement
Tonya Rine, senior electric financial analyst, Vectren Corporation
Martha Seal, development director, Holly's House
For additional information on the Connect with Southern Indiana program visit USI.edu/connect or contact Leslie Townsend, director of Community Engagement, at ltownsen@usi.edu.