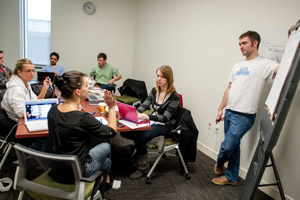 Anyone with an idea they'd like to develop into reality, and anyone looking to connect with people to work on a common mission of entrepreneurship is encouraged to take part in Startup Weekend Evansville 6.0, which will be held Friday through Sunday, February 17-19, in the University of Southern Indiana's Business and Engineering Center.
Open regionally to students, faculty, staff and the community, Startup Weekend is a 54-hour event where developers, designers, marketers, product managers and startup enthusiasts come together to share ideas, form teams, build products and launch startups. The Evansville event, the largest of its kind in the state of Indiana, seeks to bring people together to learn, network, bridge the gap between trades, expose potential and realize results.
Watch a trailer for Startup Weekend Evansville 6.0
Tickets for the event are $30 through February 5 and $45 from February 5-17. Educator and student discounts also are available. Members of the public who just want to watch final pitches, judging and awards can register for Sunday Demo Day tickets for $25, which includes a catered dinner.
The keynote speakers for Startup Weekend Evansville 6.0 are Mayor Lloyd Winnecke and Andy Niemeier, director of human resources and finance for Azzip Pizza. Niemeier, who earned a bachelor's degree from Purdue University and an MBA from Vanderbilt University, will present "If I Knew Then What I Know Now: Considerations for Your Idea Development."
Prizes include marketing consulting from Thrive Marketing Strategies, website hosting and services from Lieberman Technologies, scholarships from the Growth Alliance for Greater Evansville, legal services from Martin IP Law Group, exclusive interview with Evansville Podcast, a six-month membership to the Station Coworking Space, priority consideration for the Indiana University Maurer Intellectual Property Clinic and financial consulting from Solomon Business Solutions.
Sponsors for the event include the USI Romain College of Business, Vectren, Growth Alliance for Greater Evansville, Lieberman Technologies, Thrive Marketing Strategies, Evansville Podcast, the the Indiana University Maurer Intellectual Property Clinic, Solomon Business Solutions, Martin IP Law Group, The Station Coworking Space and Heritage Federal Credit Union.
For more information, go to www.bit.ly/startupweekendevansville. You also can follow Startup Weekend Evansville on Twitter @StartupEvv and on Facebook at Facebook.com/StartupWeekendEvv.