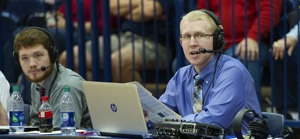 When Jevin Redman, sports director for the University of Southern Indiana's 95.7 The Spin radio station, was awarded the Indiana Broadcasters Association (IBA) Spectrum Award for Best Sports Broadcaster in Major Markets, he was surrounded not by classmates and peers, but by his role models."I was in the same room as the people you watch and listen to as you grow up; a college student among professionals."
The IBA Spectrum Awards recognize the top radio and television broadcasters in the state.  It was given to Redman for his work across all stations in the Indianapolis, Evansville, Fort Wayne and South Bend markets, and serves as a testament to the marketing major and radio/TV minor's ability to master play-by-play broadcasting and his growth as the voice of USI Athletics.
Redman, son of former baseball coach and USI Athletics Hall of Famer Gary Redman, knew from an early age, listening to Cardinals and Pacers broadcasts, that he wanted to be a sports broadcaster. As a senior in high school, a connection with sports broadcasters at USI's radio station led him to his father's old stomping grounds.
"They told me about all the opportunities, and that I could jump in right away doing games," said Redman. "That was the main thing: getting opportunities."
In the years since first coming on campus, Redman has made the most of every opportunity. He was the voice of the 2014 Division II national champion USI Baseball team, the 2014 GLVC conference champion USI Men's Basketball team, and hundreds of games across multiple sports.
"It was evident when Jevin arrived on campus as a freshman that he had God-given talent in this area, but he has worked very hard to improve each season," said John Morris, instructor of radio/TV and general manager for USI's radio station, WSWI, 95.7 The Spin – Evansville's Alternative. "He does a tremendous job when calling games. He draws beautiful word pictures that help the listener see what is happening."
Redman's talent and desire to grow has led to numerous awards, including the IBA Spectrum award and being the only Division II student named to the Sportscasters Talent Agency of America All-America Program, as well as recognition from his peers, instructors and media colleagues.
This season, Redman will pass the USI microphone on as he takes a position with the Louisville Bats, the Triple-A affiliate of the Cincinnati Reds, as a radio broadcaster and media relations intern.
"USI is a good place to start learning from the get go. I know guys who want to broadcast games and will start with high school games on Friday nights," said Redman. "The opportunities here are unbelievable, and the people here are going to help you further your career."
"It has been fun for me to see Jevin return to where his father had so much success," said Morris. "But Jevin has put his own positive mark on the University."