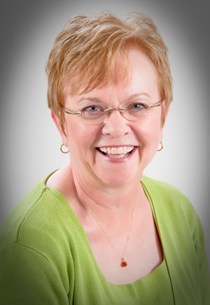 Dr. C. Elizabeth (Beth) Bonham, associate professor of nursing, has been selected to join the prestigious Fellows of the American Academy of Nursing (FAAN). She is one of 173 nurse leaders to be inducted into the 2017 class during the Academy's annual policy conference in Washington, D.C., October 5-7, 2017.
"I am proud to welcome this talented cohort of nurses as they join the ranks of the nation's foremost health care thought leaders," said Academy president, Bobbie Berkowitz, PhD, RN, NEA-BC, FAAN. "They bring a rich variety of expertise to the table, and we look forward to recognizing their accomplishments at our policy conference, and then working with them to transform health policy, practice, and research by applying our collective nursing knowledge." 
Bonham joined the nursing faculty at USI in 2009 and teaches courses in evidence based practice, research and nursing theory in the Graduate Nursing Program. She also serves as faculty mentor for students in USI's Doctor of Nursing Practice program.
Her clinical expertise as a psychiatric clinical nurse specialist focuses on mental health issues of children and adolescents. She was a founding member of the International Society of Psychiatric Mental Health Nurses (ISPN), serving the Society as president in 2015-2016. She developed a mentoring program within ISPN; she and colleagues are currently researching how the mentoring effects contribute to membership retention.
With the addition of this new class, the total number of Academy fellows stands at over 2,500. Representing all 50 states, the District of Columbia, and 29 countries, the fellows are nurse leaders in education, management, practice, policy, and research. Academy fellows include hospital and government administrators, college deans, and renowned scientific researchers. 
Fellow selection criteria include evidence of significant contributions to nursing and health care, and sponsorship by two current Academy fellows. Applicants are reviewed by a panel comprised of elected and appointed fellows, and selection is based, in part, on the extent the nominee's nursing career has influenced health policies and the health and well-being of all. New fellows will be eligible to use the FAAN credential (fellow of the American Academy of Nursing) after the induction ceremony takes place in October. 
More information about the American Academy of Nursing and the 2017 policy conference is available online.