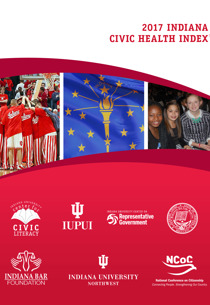 The Indiana Bar Foundation will present the results of the Indiana Civic Health Index (ICHI) at 9:30 a.m. Wednesday, November 1 in University Center Room 2217 and 2218 on the University of Southern Indiana campus. The event is open to the public as seating is available.
Featured speakers at the presentation include former U.S. House of Representatives member Lee Hamilton, former Indiana Supreme Court Chief Justice Randall Shepard and Chuck Dunlap, executive director of the Indiana Bar Foundation.
2017 is the third release of the ICHI by the Indiana Bar Foundation and its partners the Indiana Supreme Court, National Conference on Citizenship, the Indiana University Center on Representative Government, Indiana University Northwest, Indiana University-Purdue University Indianapolis and the Indiana University Center for Civic Literacy. The first Indiana Civic Health indexes were previously published in 2011 and 2015. This updated publication shows a longer period for analysis of the importance of education and the increase in civic participation as education levels increase.
Key findings include information such as Indiana residents' participation in activities associated with healthy communities and families, frequency of time spent with family and voter turnout among others.
The full 2017 Indiana Civic Health Index can be found online at inbf.org
For more information contact Charles Dunlap at 317-269-7861 or cdunlap@inbf.org.
Hamilton, Shepard and Dunlap will be available for media interviews at 10:30 a.m. following the presentation.