USI hosts Indiana Supreme Court for oral arguments
USI hosts Indiana Supreme Court for oral arguments
10/30/2017 |
University Communications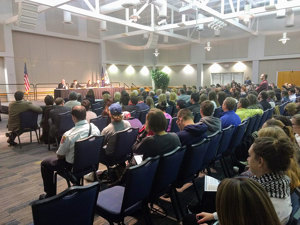 The University of Southern Indiana hosted oral arguments for the Indiana Supreme Court in the case of B.A. vs. State of Indiana on Monday, October 30.
As part of the Court's traveling oral arguments program, USI students and local high school and junior high school students were invited to witness the proceedings and ask questions of the justices about the Court and the judicial process.
This was the third time that the Indiana Supreme Court heard oral arguments in Vanderburgh County (1994, 1996), and the first time oral arguments were hosted at USI.