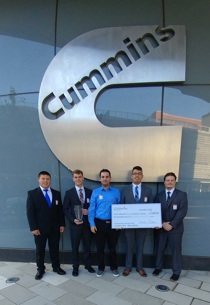 A team of engineering students from the University of Southern Indiana placed third in the inaugural Indiana Automotive Council (IAC) Conexus Indiana Automotive Case Competition on Friday, November 3 in Indianapolis. 
14 competing teams from universities across Indiana had 36 hours to research and present a business case to members of the IAC. The case consisted of selecting a new site for an automotive assembly plant in Indiana, taking into consideration land cost, workforce availability and location. Companies represented at the competition included Cummins, Fiat Chrysler, Allison Transmission, AM General, Honda Manufacturing of Indiana, Subaru of Indiana Automotive, NTN, Toyota Motor Manufacturing Indiana, Faurecia, Hoosier Gasket, Busche Performance Group and Aisin. 
Students participating in the competition were Zane Rathgeber, Keith Pate, Garrett Hoops and Sergio Stroud. The team was advised by Dr. Farid El Breidi, assistant professor of engineering. They received a $1,000 prize for third place, as well as the opportunity to network with representatives from companies and other students.
For more information, contact El Breidi at farid.breidi@usi.edu.