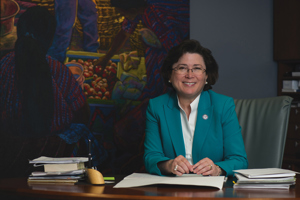 To celebrate the 50th anniversary of the establishment of the University of Southern Indiana Foundation (1968-2018) and to honor the superb work accomplished by Dr. Linda L. M. Bennett during her nine-year tenure as University president, the USI Foundation seeks gift commitments of $500,000 over a three-year period.
Of that, $250,000 will establish the:
Dr. Stephen E. and Dr. Linda L. M. Bennett Endowed Presidential Scholarship
This perpetual endowment will benefit the University's oldest and most prestigious merit scholarship program serving the best and brightest students who compete annually for the 10 full-ride scholarships available.
The remaining $250,000 will establish the:  
Dr. Linda L. M. Bennett Student-Care Endowment
This perpetual endowment is for the exclusive benefit of University of Southern Indiana students in the second, third or fourth year of study who have any type of one-time emergency need. This reflects Dr. Bennett's commitment to serve students in every way possible. Being student-centered was a hallmark, not only of her presidency, but also of her entire academic career.
June 30, 2018 is Dr. Bennett's final day as University president. Please be sure to make your gift commitments no later than June 30, 2018. You can fund your gift commitment over a three-year period.  
University trustees, Foundation directors, students, USI faculty, staff, retirees, alumni, community members - all are encouraged to make a gift commitment.
Gifts can be made at www.usi.edu/onlinegiving