Volunteer to be an Elevating Spirit@USI model and keep the swag
Volunteer to be an Elevating Spirit@USI model and keep the swag
12/7/2017 |
University Communications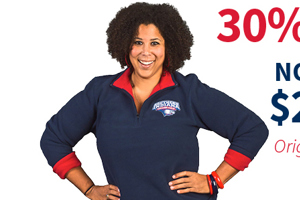 The USI Campus Store has been running Elevating Spirit@USI sales on select items and you have the opportunity to win the featured item at no charge. Featured items are rotated out approximately every six weeks. There is one catch, you must be willing to model the item for your chance to win. A winner will be randomly drawn to be featured on the Elevating Spirit@USI ad featured in USI Today. Any USI employee can enter. It's always nice to see a familiar face championing the USI brand, and who better to be that face than you?
To enter for your modeling opportunity and chance to win a featured USI logo item, send your name to Angie O'Nan, USI Today editor, with the subject line: "Campus Store model." You only need to enter once. Your name will stay in the drawing until you are selected or the final sale item has been offered.
If you are selected, Angie will get your size (if the item is apparel) and arrange a photo shoot with USI Photography and Multimedia. The item you model is yours to keep, thanks to the generosity of the USI Campus Store! Be the fashion icon you know you are!