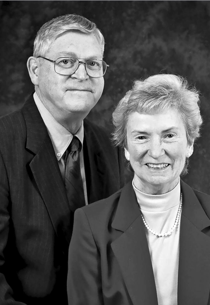 J.David Huber, a community leader and former USI Board of Trustees member, passed away over the holiday break. Huber served as chair of the nominating committee, finance committee and long-range planning committee on the Board of Trustees for 10 years. He was elected board chair in 2002 and served until 2006. During his time as chair, the University saw tremendous growth with the construction of Rice Library, enrollment numbers reaching 10,000 and an increase in study-abroad opportunities for students. He also served as a member of the USI Foundation Board of Directors and secretary-treasurer for the Schergens Foundation, which provides annual scholarships to USI students from Perry County.
He and his wife, Sarah K. Huber, established a charitable remainder annuity trust through the USI Foundation. Their gift funds the J. David and Sarah K. Huber Endowed Presidential Scholarship. His personal and volunteer efforts helped shape the University and those efforts were recognized by his induction into the President's Circle in 2008. Both Huber and his wife received honorary Doctor of Laws degrees for their leadership and support of USI, the USI Foundation and the USI/New Harmony Foundation.
In the community, Huber was a Perry County Circuit Court judge until 1970. He then practiced law in Tell City, Indiana, until he retired in 2002.